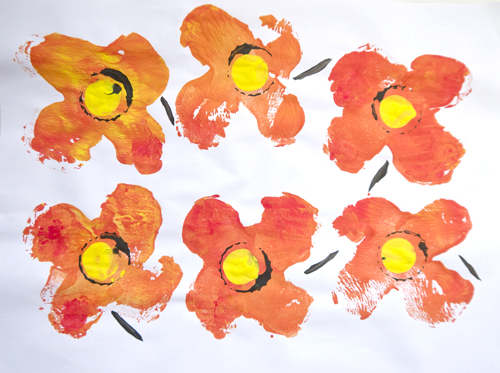 The wonderful thing about art is that it encompasses lots and lots of stuff. Sure, most think of fine art as the stuff you see hanging in museums, but art is all around us and totally influences everything from what we watch on TV to the clothes we wear.
While creating our fall leaf wreath the other day, it reminded me of this wonderful patterned fabric I'd come across from Marimekko. It's colorful, crisp, and absolutely vibrant. Armi Ratia started the ball rolling in 1951 when she designed her fist dress – and it was a hit. Through the years, Marimekko has become one of the most respected textile companies dressing famously fabulous ladies for decades. Some might say Jacki-O put them on the map when she was photographed wearing a pink Marimekko dress during the Kennedy vs. Nixon election.
A woman's company made for making women awesome, Marimekko is all about mod-design and embracing that inner flower power. The patterns are still living strong today and new designers keep things moving and grooving. So, while cleaning up our fall leaf wreath mess, I got an idea for a fabulous Marimekko inspired project.
Start by inviting your little designer to take a look at Marimekko's designs focusing on the patterns and shapes. This project is great for kids of all ages – girls and boys. The Unikko fabric in orange and yellow is perfect inspiration for a fall flower stamping creation!
Offer your child a pencil and a sheet of scrap paper. Encourage her to free-form draw a few organic flower shapes. Organic shapes are free of sharp edges or jutting corners or lines. She can even shake out her hands and arms to get her in the organic shape making mood.
Once she's created an organic flowery shape she's satisfied with, your child can cut it out with a scissors and then trace it onto a piece of super-washed and dried styrofoam (yeah, that's right, we used a meat tray for our stamps). Or a nice section of cardboard works wonderfully.
To create an easy-to-use stamp, offer a helping hand by taping a die or a small block to the back of the styrofoam, or cardboard, cutout.
For a fall inspired Marimekko stamped creation, your child can squeeze a bit of orange paint on a paper plate and start stamping away. She can create a pattern or random arrangement of her mod flowers. We experimented with color theory by mixing red and yellow paint together.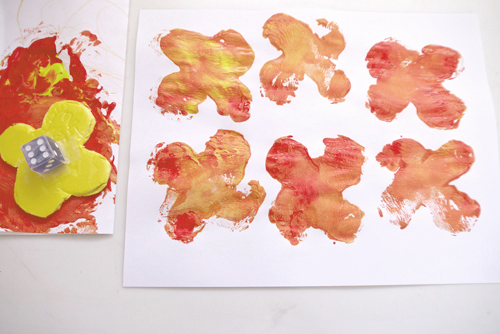 Once the flowers have dried, she can add details to the flowers using small circular items for stamping, such as bottle caps or round blocks. She can also use brushes and some black paint for adding stems. Your child can explore her ability for creating unique designs by working until she's satisfied with the end result!
The finished Marimekko inspired stamp art can be displayed on the family fridge, or offer your child several sheets to keep on stamping and use her creations as placemats for Thanksgiving dinner!