While cleaning out the fridge the other day, I happened upon the last dredges of some home-grown maple syrup that had been neglected during the warm summer. The weather had started to cool down, so that maple syrup imprinted on my brain pretty serious.
So much that I spent a couple of hours (which should've been spent working or enjoying the new sentence-structure abilities of the tot) looking for maple syrup recipes.
I had to dig a bit, but then, there it was.
Candied Bacon.
The recipes I found mostly called for brown sugar and fancy, schmancy cooking equipment. I made it my way – and it turned out amazingly good.
Ingredients
8-10 thick slices of bacon (about 1 pound)
1/2 c brown sugar
1 Tbsp maple syrup
(that's it)
What you do
Preheat the oven to 400 F. While things are cranking up, line a sheet pan with heavy-duty tinfoil (or a few layer of the regular stuff) and get out your bacon.
Line those slices of lovely ham on the sheet pan so they are just about touching, but have some room to grow.
Now, mix together the brown sugar and maple syrup in a bowl. Please, do one thing for me. Don't use maple syrup out of a plastic squeezie container. Use the yummy, good stuff. Sure, I know it costs more in glass bottle, but, chances are, you're paying for the real stuff. Not color-added high-fructose corn syrup…
Get your hands in the brown sugar maple syrup goodness and crumble half the mixture over the bacon.
After you (lick your fingers clean) wipe off your hands, pop that bacon in the oven and set the timer for 8 minutes.
Ding.
Turn the bacon and sprinkle the fresh sides with the remaining brown sugar/maple syrup mixture. Pop back into the oven for another 8-10 minutes.
It's up to you how crispy you want your candied bacon. If you like things a bit browner, let that bacon hang out. You can even give things a flip to keep the total goo-factor going. Once you're happy with how things are looking, remove the pan and let the candied bacon rest for about 10-minutes.
Remove the slices from the pan and place on a nice, clean plate. DON'T put it on a paper towel – think bits o-paper all over that yummo bacon.
Depending on how you plan on using your candied bacon (sure, you can eat it all now), place in a plastic zippy-top bag and in the fridge. Or, chop it up and add to dinner. I did….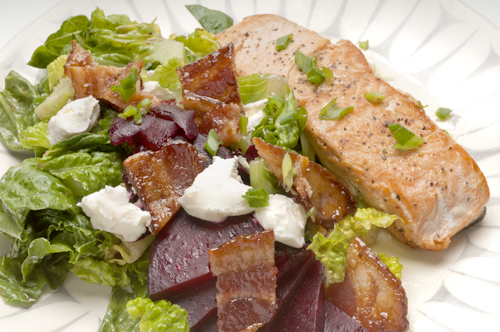 Want to put a spin on things? Add a couple dashes of one or all of the following:
Paprika
Cinnamon
Ground Ginger
Fresh Ground Pepper
Dried Mustard
or
Pumpkin Pie Spice