Have you ever had one of those weeks that makes you totally crazy but is amazingly awesome at the same time? Yeah, I'm working on one of those…
I've got something fantastic brewing and am really excited to share some fun news!
Over the next couple of months I'll be bringing you fabulous finds and some of my favorite things via Shine from Yahoo! as a Get-it-Guide Guru. What's in it for you? A real mom's take on stuff like fashion, food, crafty stuff, food, toys, housewares, food, and food. I'll tell it like it is and share with you where to get the goods after I've spent some time taking the cool stuff for a trial run. Along with 9 other awesome ladies, we'll be tackling some of the biggest trends from finding jeans that actually fit to picking up the perfect last-minute gift.
Heck, you might even get some free stuff, too.
So stay tuned….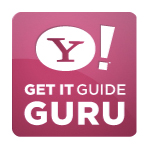 How was your week? Anyone else have some Friday fabulous news they want to share?