While at the market the other day the child just about had a conniption fit when we walked by a big display of those itty-bitty fishy crackers. She's never really been wooed by packaged items so I was intrigued to see what this was all about. I let her pick a box (she happily grabbed the rainbow ones) and we opened it on the ride home.
It got quiet real fast.
As I pulled up to the house I snuck a quick look and saw she had removed all the green crackers leaving the other colors behind. She was happily shoving those green bits in her mouth smacking her lips together and licking her fingers.
Of course the next day all she wanted was to go to the store for more of those multi-colored crackers. I really wasn't excited about running out to the store every time she had a whim for green cheesy crackers, so I figured we could make some of our own. Sure, I could go to all that work of cutting out tons and tons of small fishes, but I decided small squares would work out just fine.
And they did.
My tot still favored the green ones, but she nibbled a few of the regular orange ones and the red crackers, too.
This is a simple recipe to create and you can create colorful ones or just go simple with the regular orange cheddar ones. But, instead of just squeezing in a bit of food coloring, do it the natural way! To create the green ones, use a spinach puree. Red? Blend up some beets!
Ingredients
1/2 c cold butter
1 c flour (you can use whole wheat if you'd like)
4 ounces sharp cheddar cheese
1/4 tsp salt
Dash of pepper, paprika, and dry mustard
1-2 Tbsp water (*or this is where you substitute your beet or spinach puree for your tri-color creations)
Extra flour as needed
How to make them
If you are wanting to create the total tri-fecta of colored crackers, simply divide the recipe by three. Or, make up three batches for lots and lots of tri-color cheesy crackers! It's as simple as placing the ingredients in a food processor and pulsing until things come together. Just pop in the same amount of spinach or beet puree in place of the water. And, if things get a bit too watery, just sprinkle in more flour.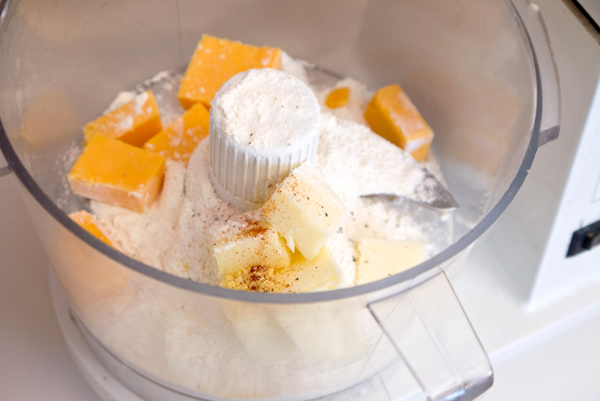 Once the dough comes together in the food processor, wrap in plastic wrap and let sit in the fridge for at least 30 minutes.
Dust your work surface with flour and roll the dough as tin as possible. Use a pizza cutter to cut small squares – or rectangles or triangles – of dough and then place on a lightly oiled sheet pan.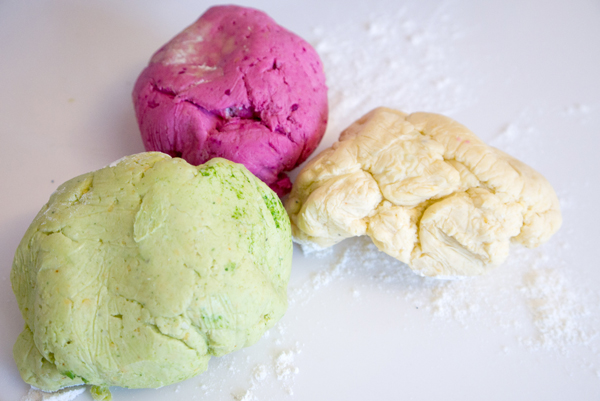 Pop your crackers into a hot 350F oven for about 12-15 minutes. Let cool before snacking.
*How do you make spinach or beet puree? Simple.
For the spinach: Place 1 c fresh spinach leaves in the blender and add 1/4 c hot water. If you've got a hand blender, you could use it to create the puree, too. Blend the water and spinach together until there are no big chunks. And, yeah, you could use frozen spinach if fresh isn't available.
For the beet: Place 1/4 c diced cooked beets in the blender along with 1/4 c water and puree. This could be done with a hand blender, too, just like the spinach. And, if you don't have any fresh roasted beets on hand, canned will do – but make sure they aren't marinated! Blend until nice and smooth.