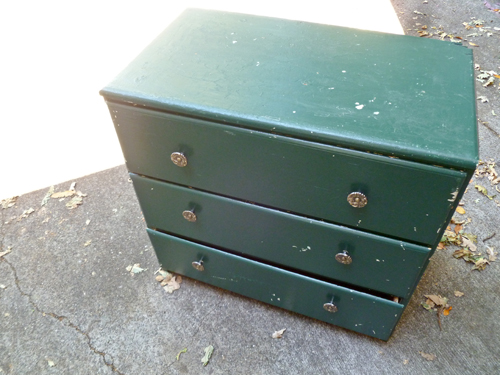 The other day there was a nasty green dresser hanging out sadly on the corner. I quickly snatched it up and drove it home. The color was a bit much but knew it would be perfect for a home project. There's a closet under the stairs that just isn't right, and that little dresser was going to help wonderfully.
Paint has been my best friend since moving into our house. If you remember, the previous owners had quiet a thing for bright, vibrant, full-gloss paint, and, room by room, I've been putting things right. All that was left was the hall closet tucked under the stairs. Things had gotten pretty bad – you couldn't even really use the closet because it was so crammed full of junk. It was time to clear it out and transform it into something new.
So, after much grumbling, I enlisted the hubs to help drag things out and go through those items, putting stuff in the trash, the keep stash, or the donate pile. In no time things were sorted out and I was left with a decent sized little room.
After giving everything a nice coat of white paint I was ready to tackle the dresser. I figured going over red and black high gloss paint would take a couple of go-overs, but thanks to Dutch Boy, things were solid white after two coats.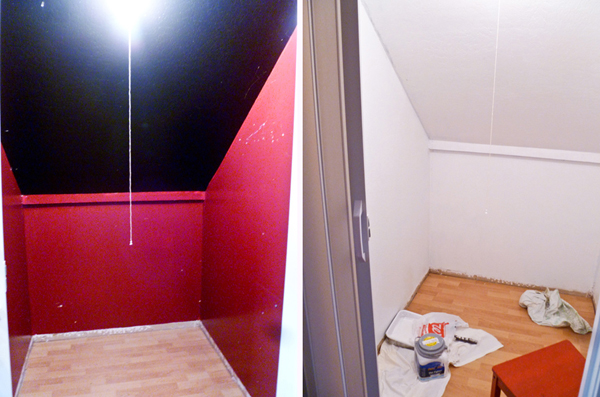 Back to the dresser. I disassembled things and gave everything a good wipe-down. I had come across this motivating article from theMotherboard that provided easy go-to painting info, so was feeling pretty paint confident. Using a roller, I painted the dresser with the same white paint. After things dried for an hour or so, I mixed a small amount of green acrylic paint with the white, creating a nice super-light seafoam color. I got out an old sponge and tap-tapped some lightly over the white, creating some barely-there texture.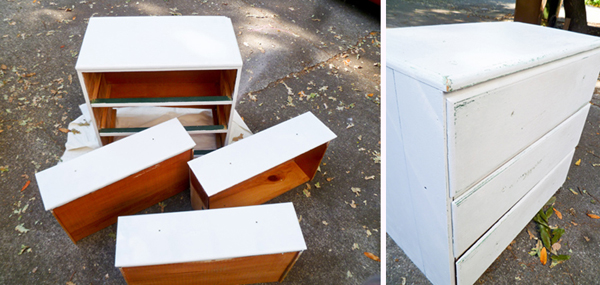 Then it was time for power tools! I used the hand sander to distress the corners and edges of the dresser, giving things a bit of texture and intrigue. The green paint started showing through, and even some of the wood. That old green dresser was starting to look pretty fun!
I also talked the hubs into cutting some base boards to go around the freshly painted room, and then scrounged the house for fun things for the final reveal.
The end result is a cute little play room with the dresser offering its lowest drawer to several lucky stuffed animals. The tot loves to go in there, shut the door, and draw on her chalkboard and read books to her stuffed friends.
Perfect.