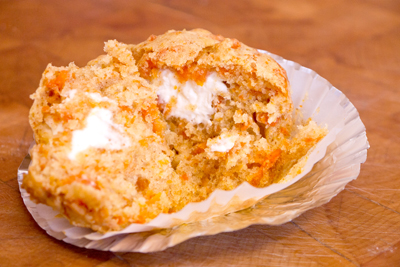 I bought too many carrots. Last week I was really excited about the idea of getting back into juicing and making our own juices at home. I made the mistake of offering the child some of the flavorful stuff from the store the other day, and now it's her new favorite thing – JUICE! I have nothing against juice – it's just that some have a lot of sugar and natural/organic juice is expensive.
Thus, the 5-pound bag of carrots sitting in the back of the fridge.
I made a big pitcher of carrot-apple juice about two weeks ago and we guzzled it down. But, I lost my juice-making-chutzpah last week, and I'm totally not feeling it today.
Carrots are full of goodies, like antioxidants, which keep the body healthy and working wonderfully. Along with vitamin A to help eye function and development, they contain beta-carotene, which keeps us looking young by fighting cell damage.
I couldn't let those lovely carrots go to waste…
MUFFINS!
I had a couple of random ingredients hanging around alongside those carrots and knew they would all taste wonderful together.
Ingredients
2 c steamed cubed carrots
1/2 t vanilla
1/2 t cinnamon
Dash of salt
3/4 c sugar
1 Tbsp room temperature butter
1/2 c vegetable oil
2 eggs
1 t baking powder
1/2 t baking soda
2 c flour
Cold cream cheese cubed
How to make the goodies
I really didn't feel like shredding all those carrots or dirtying up one of my various kitchen mechanical things, so I figured we could try something different. Why not steam and mash those carrots? I cubed the carrots into small chunks and placed them in a saucepan with about 1/4 c of water. Cover the carrots with a lid and let simmer for about 10 minutes, or until those carrots are fork tender.
While the carrots are bubbling away, you can preheat your oven to 375 F. and gather the rest of your ingredients. If you have time, you can even line your muffin tin – or give them a light greasing. This is a great baking project to do with the kids, even with a young one like my daughter. She had a great time putting the muffin liners in the muffin tin.
Drain off any remaining liquid from the steamed carrots and place in a large mixing bowl. Use a potato masher to create a nice lightly chunky mash to use for creating the batter for the muffins. I even let my tot wield the masher and go at those carrots.
Now measure and add the rest of the ingredients to the mashed carrots – except the flour and cubed cream cheese. Once everything is mixed nicely, you can gently add the flour, 1/2 c at a time. You don't want to over mix the dough, so if there is still a bit of flour peaking through, it's okay.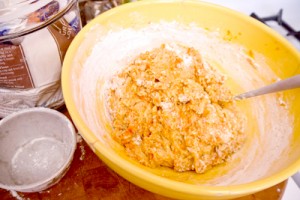 Pop a spoonful of the batter in the muffin tin and then top with a small 1/2 inch cube of cream cheese. Top the cream cheese with another spoonful of batter and then place in the nice hot oven for 15-20 minutes. My muffins were perfectly cooked right around 18-minutes, but everyone's oven is a bit different.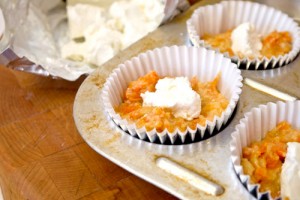 These muffins are slightly sweet, full of cinnamon flavor, and have a creamy surprise in the middle.
PERFECT!