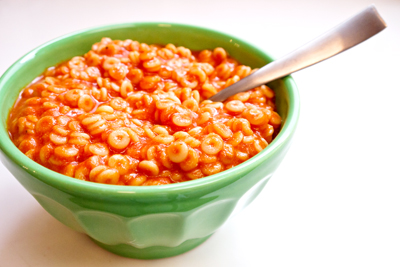 The other day I had a big hankering for a past food infatuation. SpaghettiO's. Yup. During college I ate tons of Ramen and SpaghettiO's.
Cheap, nurturing, and badly tasty.
So, the other day while at the store with the wee tot, I came across some itty-bitty ring pasta and my stomach instantly transported me back to a bowl of that creamy tomato-ey stuff, and I knew I had to try to create a healthy homemade version. While pursing around, I found a few recipes, but decided to see what could happen if I ventured off on my own. I made a big batch and figured the leftovers would be perfectly tucked away in the freezer for a rainy day.
The recipe is easy enough, and as I said, this makes a mongo-big batch, but I guarantee your family will eat it up before you have to toss any into freezer bags.
And, it passed the food tyrant test. My tot gobbled it up, and even asked for seconds.
Ingredients
1 28-ounce can of tomato sauce – whatever kind you like, but plain and cheap is best
3 cups water
1 garlic clove minced
1/4-cup milk
1/2 cup shredded cheddar cheese
1 Tbsp butter
1/4 tsp pepper
1 tsp salt
1 tsp sugar
14 ounces Anillos (small ringed pasta)
How to make them
Start by giving the Anillos a pre-boil in a big pot of boiling water for about 10-minutes. While the little rings are simmering away, you can assemble the sauce in another stockpot. Can't find Anillos? You could use mini shells or tiny elbow macaroni, too.
Add the sauce, garlic, pepper, salt, and sugar to the blender and give a good whirr. This breaks up any clumps in your sauce and really incorporates the seasonings. I used a nice basic non-chunky tomato sauce and was very happy with the results.
Now add the tomato mixture to the pot along with the water and stir. Turn the heat to medium and let the sauce warm up.
After 10-minutes, drain the pasta and return it to its original pot. Add the butter and stir to coat using its residual heat. Those little circles of pasta will soak in that yummy buttery goodness.
Go ahead and slowly add the rings to the tomato sauce and let simmer for about 20-minutes making sure to stir every 5-minutes or so to ensure the pasta doesn't stick to the bottom of the pot.
Give your pasta a taste test and check the seasonings. If you want more salt, add a sprinkle. If you would prefer things to be more garlicky, shake on some garlic salt…
Also, check the sauce consistency. Your pasta should have soaked up all that yummy sauce, but if things are still too watery, you can let everything simmer for another 10-minutes or so.
But, if you are good with how things are shaping up, it's time to add the finishing touches. Turn off the heat and add the milk and shredded cheddar and then stir. The milk gives everything that great creamy taste and the cheese helps hold things together – and it's cheese. Anything with cheese is good stuff.
What's great about this recipe is it's really basic, and you can adjust, add-too, and change-up however you like. Sure, it's not going to taste exactly like the canned stuff, but, heck, you made it!
Your homemade spaghetti-OHS are ready to eat! If there are any leftovers, fill a few plastic bags with single servings and pop in the freezer to enjoy later.
Tasty!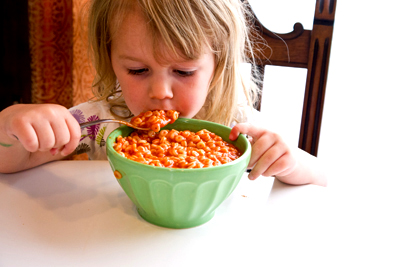 * She ate the whole bowl.
*AND, if you love this recipe, check out my white bean mac-n-cheese recipe!
11 Responses
This sounds pretty spiffy but what are the nutritional facts and cost of doing this over simply buying them ready-to-eat?

Thanks! They are yumm-o!
Benny, I'm not sure what the nutritional value is in comparison, and, sure, opening a can is maybe a bit easier than boiling, blending, and stirring for 30-minuts. But, in the end, they are homemade. In my world, anything made from scratch is better than something pre-packaged and ready-to-eat.

i'm so glad i saw this on pinterest! i am, sadly, a spaghettio + ramen lover, too, but my conscience keeps me from eating either too often. love that i can make spaghettios from scratch! next up? figuring out how to healthify ramen noodles. =)

Great recipe. I'm going to have to get the ingredients and try this. Doesn't help that I am hungry right now while reading this. Good idea for those adults with the inner child inside of them.

ZOMG you just made my day. This sounds like heaven. I will be making this. Thanks for this and linking up to toddler dinners!

Enjoy! This recipe makes a lot – and you really can adjust to your liking – so get out the freezer bags or invite over some friends! I just made this the other day, but with mini shells (and with extra cheddar), and they were soooo good!

Can't wait to try this. I'll probably go a healthy step further and sneak in some pureed carrots and sweet potato. You could even use whole grain pasta if you can find it.

This looks so good I'd much rather go the homemade route any day!!!

[…] Adapted from So Says Sarah […]

I tried these with Schar gluten free annelini and they turned out SO great! :)Thanks for the recipe, i haven't had spagettios since I went gluten free!