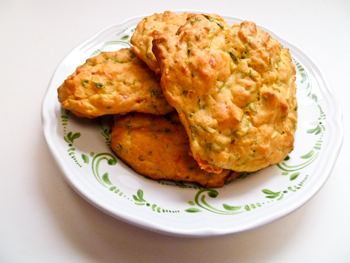 My child is still quite in love with all things cheese and grapes. We have evolved to blueberries, apples, oranges, and anything with peanut butter and jelly. But, cheese still rules the roost at our house. So, I'm constantly trying to find ways to sneak veggies into her stuff. I've even puréed spinach and coated her pasta only to have her point, shake her head, and say, "nope." I had success with my classic white bean mac-n-cheese for a couple of weeks, but even that little bit of red pepper trips her up.
For some reason my husband came home with a box of Bisquick the other day. I'm not really sure what he was thinking – I don't think I've ever actually used Bisquick before – but I guess he had a hankering for some pancakes. I whipped some up, and was wooed by the wonders of the stuff. And, the wee tot couldn't get enough of those pancakes, so I figured I might be able to entice her to eat some veg by strategically placing some in that baking mix.
I came up with a tasty – and child tested – veggie biscuit that is just a bit sweet and the perfect amount of savory. They are perfect to toss to the kids for a quick snack or to accompany any dinner. And, they are super easy to put together!
The stuff
1/2 cup grated zucchini
1/4 cup grated carrot
1/4-cup super-small diced red pepper
1/4 cup chopped spinach
1 Tablespoon any kind of oil you like
1/4-teaspoon salt
1/4-teaspoon sugar
Dash of cinnamon and paprika
1/4-cup plain yogurt (you could use mayo or sour cream, too)
1/2-cup milk
1 egg
2 1/4 cups Bisquick
What to do
Add all those chopped, diced, and sliced vegetables into a mixing bowl and then toss them with the oil, salt, sugar, and dashes of cinnamon and paprika. Go ahead and preheat the oven to 400 degrees Fahrenheit, too.
Now you can add the yogurt, milk, and egg and stir until everything is all mixed up.
Then measure and add the Bisquick and you are good-to-go. Scoop up heaping spoonfuls of the biscuit batter, drop onto a lightly greased sheet pan, and pop into your hot oven for about 12-15 minutes.
Remove your piping hot toasty brown veggie-love biscuits from the oven and try not to eat them without letting them cool properly.
No one wants a burnt tongue, right?