Every summer I hit the outdoors and do some gardening. And then I get tuckered out when I get to those long wooden flower boxes hanging out on my deck. It seems whenever I plant something in them, they dry out, get forgotten, or don't do much of anything. So, this year, even after our big spa-deck makeover, I decided to leave them where they were, banished to the end of the deck, and act like they weren't there. I even adverted my eyes the other day as the wee tot turned one into a mini dirt box, enjoying creating quite the mess.
I finally moved them off the deck and into the garage.
Humph.
But, then, magic! I came across an article from the Motherboard filled with some fun and festive summer painting ideas to bring that outdoor bling indoors. One of those old, boring, flower boxes would make the most adorable bench once painted, perfect for my tot!
So, this is what I did:
To create this super-simple transformation, you only need a couple of basic items, such as upholstery foam, a hot glue gun, flowery fabric and scissors, penny nails, a staple gun, and a sheet of wood 1-inch wider and longer than your flower box. I happened to have an old piece of flooring just the perfect size.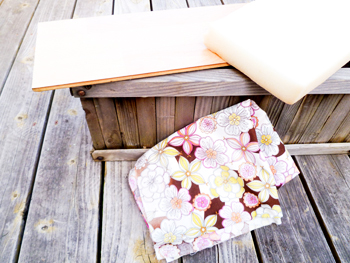 First, I gave the flower box a vacuum. Really, I used my shop-vac to clean the thing out. There were several old spiders and bits of roots hanging out in the cracks that had to go. Then, I used some indoor/outdoor paint on the outside of the box and didn't really worry about totally covering everything so it would have a funky-rustic look.
Go ahead and cut the upholstery foam to the same size as the your piece of wood and use the hot glue gun to hold it in place.
Now cut a section of your fabric about 1-foot wider and longer than your box, which means you'll totally have enough to wrap the foam-topped piece of wood.
Position the foam-topped wood in the center of the fabric, foam side down, and get out your staple gun. Slowly start pulling taught the fabric and stapling while working your way around the foam-topped wood. You can fold and tuck the corners to create a nice edge and then secure with a staple. If there's lots of fabric left hanging about, feel free to trim with your craft scissors.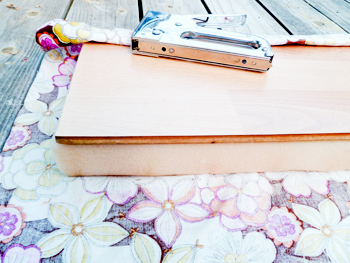 Place the fabric covered seat cushion on top of your nicely painted  (and dry!)  flower box and center it so there is a small lip around the box. Hammer several penny nails around the outside edges securing your adorable fabric covered foam top!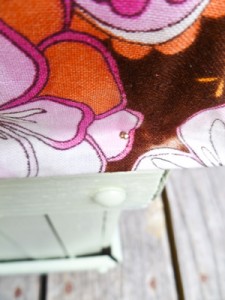 Help your child find the perfect spot in your home for the finished sunny bench. Or, upholster the top with outdoor fabric and take that bench outside! We have a sweet little play area at the top of the stairs, and the finished bench turned into the wee tot's favorite spot to sit and read a book.