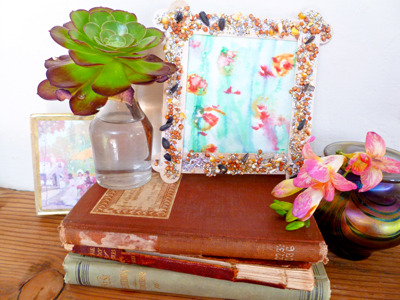 The other day, while the rain was pounding down and I thought the winds were going to blow us away, I kept chanting over and over in my head, "spring is almost here, spring is almost here, spring IS almost HERE!" Just about the time I was ready to take the babe under the house with a candle and some bottled water to wait out the monsoon, I peeked out the window and saw there was no way the wee tot and I were heading downstairs because there was standing water all over the place.
UGH.
We have a space down there that is quite large and we've tossed around the idea of finishing it to create an indoor outdoor room. It's also where all our garden stuff is stored. So, from bulbs to the weed wacker, most items were now either damp, dripping, or totally done for.
So, yesterday, when spring had really sprung, I ventured down to see what was a total loss and what could be salvaged. I'd just stumbled across a spring de-cluttering (well, really, a trashing and tossing) article from the Motherboard and I was ready to stop the hoarding and start the pitching.
I love garden stuff. Every year I plan and create the most amazing garden – in my head. I spend some cash on garden stuff and then it gets hot and I get lazy and nothing gets done. Last year we had a couple of overgrown tomatoes hanging out amongst a wonderful collection of weeds and overgrown dandelions. After making sure all the garden tools still worked (and installing hooks to hang them from), I was ready to go through the other stuff.
Next up, the adorable collection of seeds. Half had been sitting for a few years unused collecting dust and the rest had sprouted in their own paper envelopes. After learning they really aren't any good after a year or so, I knew they really should go. But, being the way I am, throwing things out are a bit hard for me. There had to be something fun those seeds could be good for other than growing.
And, there was…..
Seed frames!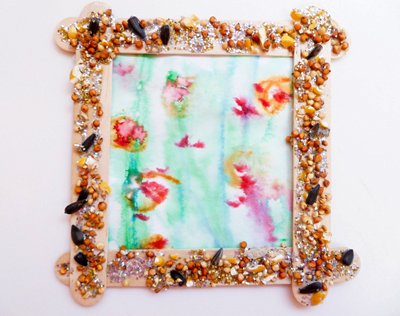 Your kids can turn those seeds into a spring craft by creating a sparkling seedy picture frame. I started by helping the wee tot glue together four popsicle sticks into a square. While waiting for the frame base to dry, we created a spring inspired marker wash to place in our finished frame.
Once the popsicle stick frame is dry, invite your child to coat the top side of the frame with glue. She can either squeeze it out of the bottle or use a brush to coat the sticks. Either way, encourage your child to really cover that frame!
Now it's time to get seedy! Older kids can individually place seeds creating patterns or areas of texture with one kind of seed. The young ones can just sprinkle willy-nilly.
Finish things off with a dusting of silver and gold glitter. Once the spring seed frame is dry, your child can place a picture of her own creation in the frame and display it somewhere in the home. We put ours on the mantel!
But that's not all…
You could also use those seeds for a fun science project. Yes, we know they might not grow, but that shouldn't stop your family from doing a "will it grow" experiment!
Help your child get started by cutting a fresh sponge into a small square and finding a shallow dish it will fit in.
Now invite your child to select a couple of seeds and press them into the holes of the sponge. Your child can fill the dish half way with water and find a sunny spot to place her sponge spring seed experiment on.
Encourage your child to make a chart to document the changes the seeds go through during the week along with making sure the sponge stays wet.
At the end of the week, take a look at the results, both on the chart and the sponge. Did any of the seeds grow?
Happy spring!