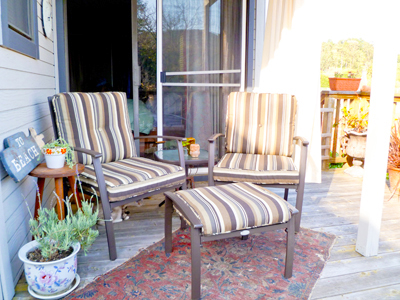 We moved into our house just about two years ago and it seems like we are just now starting to figure this whole "home ownership" thing out. I still reach for the phone when something breaks to contact the property owner, and then remember, nope, that's my job now. Sometimes I get excited by the prospect of painting or installing new fixtures without having to ask first, but, when it comes to certain things, I still need a little help.
Serious help.
You could say I'm a bit thrifty and love finding cheap and creative ways to deal with the fact that half the time I feel like we are barely getting by (you know, that "home ownership" thing). So, finding ways to make our outdoor areas exciting hasn't really worked. We've got a yard (which was a barren wasteland), a side yard, and very small backyard with a wooden deck. And, there's an upper deck off our bedroom that I lovingly refer to as the "spa deck." There isn't anything very "spa" about it.
But, for some reason, it's where we always hang out.
Well, the hubs and I put a lot of time last year into creating grass in the main yard, and the spa deck became populated with free deck furniture and kid toys. It pretty much looked like a garage sale. Add to it that we live alongside the neighborhood high school's football field, and there are times there isn't much privacy – like during football season. So, I needed some inspiration to create an actual oasis with real stuff, not things picked up off the curb.
I pursued an article from the Motherboard and found some fun inspiration. Many of the ideas weren't obtainable for us on our budget, but I did find a way to use select suggestions and put my own thrifty spin on things.
Before doing anything, the hubs and I hit the local garden store to actually buy a set of outdoor furniture. My mismatched items had become overwhelming and a bit disastrous – meaning we sometimes worried if we would be falling on the ground the next time we sat on the things. I committed to a budget, and we found a set on sale that fit our space and style.
Then I decided it was time to take care of the privacy thing. It's not like we're out on display or anything, but who doesn't love the look of soft white curtains blowing in the breeze? So, I popped some up by installing a curtain rod using some hooks, and we were good to go.
All my frugal finds from our favorite flea market weren't a total waste, I simply wove them in with the brand new fancy stuff to create a bit of whimsy and outdoor drama. By tossing an old rug on the ground, putting a couple of nick-knacks here and there, we were on our way to a brand new super spa deck.
So, we did this whole deck makeover for about 200 bucks. I re-purposed old curtains, had a rug hiding in the garage that worked just fine, spent the money on the chair set, a nice outdoor thermometer, and some fresh plants to go along the side of the deck. It's not perfect, surely not fit to be showcased in any magazine, but, as you can see, we created a just dandy spot to comfortably sit in the sun and look at the view.
And here's what we're looking at….
Do you have an awesome outdoor hangout area that you love?