In my head I'm a total babe. I've got perfectly coiffed hair, my clothes are sans cat hair and bits of child-food, and my smile is big and shiny white. Oh, and I'm also toned, buff, and a perfectly healthy weight. Then, every once in a while, I get a good look at myself in the mirror, and yeah, I still rock, but that perfect hair is really a ratty pony-tail and the yoga pants look like they are made of cat hair.
Ick.
My hair has led an interesting life. For many years it was permed, teased and sprayed. Then it went through a growth spurt and hung all boring and long-like. During pregnancy my hair had a mind of its own and as soon as the wee tot popped out, that post-pregnancy hair was back to being blah. So, I cut it all off, and admit to having absolutely no clue what to do with it.
Well, it's finally long enough to pull back in a ponytail, and the hubs has already made comment on the not-so-pretty pigtail sticking out of the back of my head.
Ugh.
Spring is here, and wearing a hat or headscarf is quickly becoming a thing of the past. I hit the computer and searched for input. I came across someone twittering about doing an OOTD post and was intrigued. What the heck is an OOTD post? I asked the all-knowing Twitter, but got no response.
With the help of Urban Dictionary (a true friend), I learned OOTD stands for (in the blog-o-sphere) Outfit Of The Day. All the self-proclaimed fashionistas share pics and info on what they are wearing on a good outfit day. And let me tell you, I discovered some pretty amazing OOTD posts, which made me feel even frumpier.
Right then and there I decided I was going to do an OOTD post. But, it was also going to also be an HOTD post – a.k.a Hair Of The Day post. And in it I would share with you, faithful readers, a pretty-decent hair and outfit day.
Then I chickened out. Who wants to see my mamanista fashion/hair? Well, with some helpful hair tips (and motivation) from the Motherboard, I did a quick bangs trim, totally hair-dry tousled it, and pulled off a messy mini-pony.
Here I am trying to look super-cool in not my Outfit Of The Day outfit, but my Outfit Of The Everyday Outfit. Seriously, the sweater is interchangeable, and those jeans are just like yoga pants – wide all the way down.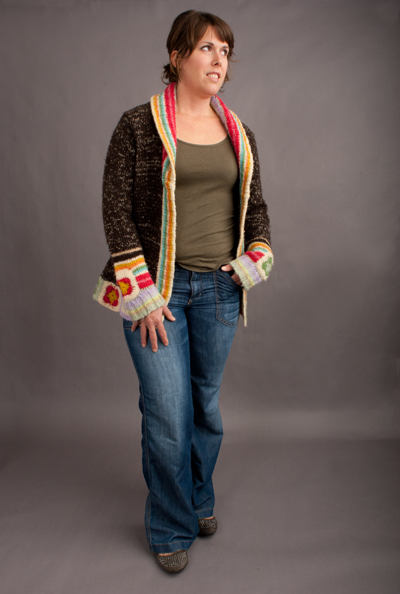 Notice the sparkly flats, oh-so-great to chase after the toddler and bedazzle her at the same time. This is just about the most bling there is in my wardrobe.
Close-up of the frayed edges of my sweater (just like all other sweaters and sweatshirts I own) from over-wear and using the sleeves to wipe the babe's nose and stuff.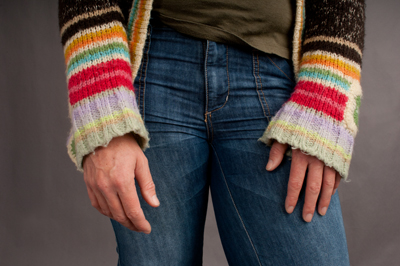 And, my attempt at creating a tousled nape of the neck pony…
What's your normal OOTD and HOTD mamanista style? Do tell!
*
Jeans – Anthropologie
T-shirt – Forever 21
Sweater – Local consignment shop (it was basically brand new when I bought it – super find!)
Shoes – Target (?)
Thanks to the husband for the photo shoot.