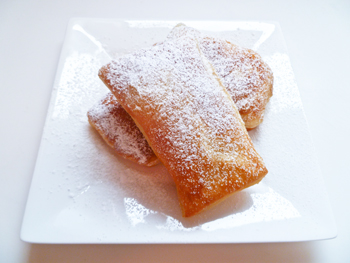 I woke up the other day obsessed with making donuts. For someone trying to eat healthy, hot, crispy donuts are not at the top of the low-calorie, low-fat, low-anything list. But, I wanted some donuts. So, donuts I would have.
Stuck deep in my cause-my-mouth-to-drool memory is a creamy donut I had the pleasure of eating at a little bakery/coffee shop in Duluth, Minnesota. I loved frequenting the place to sip a cup of tea and sample one of the goodies sparkling in the bright, shiny display case. Whenever the smell of fresh donuts wafted from the front door, I was right there ready to munch away.
The style of the afore-mentioned donut was more like a beignet – full of air and lightness with a blustery dusting of powdered sugar all over the place. I knew I had to attempt a recreation. My stomach told me so.
After finding a recipe for donuts, and making a couple of adjustments, I created the best ever donuts right in my own kitchen.
Ingredients
1 Tablespoon yeast
1/2 cup warm water (about 105 degrees)
3/4 cup warm skim milk
1/3 cup white sugar
1 teaspoon vanilla
1/4 teaspoon salt
1 egg
1/3 cup soft butter
2 1/2 cup flour (*I used 1 1/2 cup white flour and 1 cup whole wheat flour) plus additional flour for kneading
2 cups vegetable oil
Directions
Stir together the sugar, warm milk, and water in a mixing bowl. Gently sprinkle the yeast over the top and allow to bloom (get all bubbly), which takes about 3 minutes.
Now add the egg to the frothy concoction, along with the salt, vanilla, and soft butter. Delicately stir together with a spatula. You're creating a batter of goodness and treating it with total love and respect will guarantee luscious, decadent donuts.
Begin adding the flour 1/2 cup at a time until a soft dough forms, which means the mixture will be a bit sticky. Deposit the supple dough onto a floured work surface and sprinkle with additional flour so it can be kneaded without adhering to your hands. Once the dough has been worked over for about five minutes, return it to the mixing bowl and cover with a fresh, soft towel.
Find a nice warm spot for the dough to rest, which takes about 30 minutes, or until it has doubled in size.
Dust your work surface with flour and begin rolling the donut dough until it is about 1/2 inch thick. Now you can create any shape of donut you like by pressing a glass or cookie cutter into the dough. I simply cut the dough with a pizza cutter into rectangles.
Bring to a toasty-hot temperature of 350 degrees Fahrenheit two-inches oil in a medium-sized sauté pan. Gently slide the cut donuts into the hot oil and fry for 1 to 2-minutes on each side, carefully flipping with a slotted spoon.
Remove your lightly browned donuts from the oil and let rest on a couple of sheets of paper towel.
Topping the donuts
Simply dust the donuts with powdered sugar, or a combination of cinnamon and sugar. Or, if you really want a treat, you can combine powdered sugar, a touch of vanilla, and enough water to create a glaze perfect to drizzle over the warm tasty things.
This recipe created about 20 3-inch rectangular donuts.
(I won't tell you how many of them I actually ate.)
*I originally posted this in July of 2010, but after discovering The Red Dress Club and seeing the writing prompt for this week, I couldn't resist reworking the post as well as rediscovering my love of the all-wonderful donut.