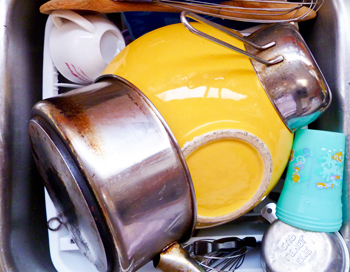 It's pretty quiet at my house. My parents left after being with us for just about two weeks and everything is starting to get back to normal. It was awesome to have extended-stay visitors and I really got used to all the help around the house – and extra collection of hands to play with the babe. So, I'm missing the parents. But, especially, I'm missing my cleaning machine. My mom helped scrub, wipe, wash and fold just about everything in the house while she was here, which was a great help for me – but now what am I supposed to do?
I'm not a good cleaner.
At least I can admit it.
My laziness takes over when it comes to cleaning. And, I'm an expert procrastinator. Sometimes I get motivated and start strong but then lose my oomph. So, most things look pretty good from afar, but if you get up close and personal with my stuff, the dust is unmistakable, the finger marks on all the windows become extra shiny in the sunlight, and the ring around the tub glares like a new wedding band.
UGH.
The idea of someone coming over unannounced makes me shudder. But, do I change my ways? Nope.
I have a cleaning issue and it is in desperate need of some serious attention.
While perusing the latest stuff over at the Motherboard I found an article that solved all my problems! This shiny, tidy list of ideas not only made me grin from ear to ear, but also snicker a bit. Who doesn't want someone to walk into their house and instantly feel jealous because it is shiny clean from top to bottom?!
First off, I followed the great suggestion of giving the guest bathroom a good scrub down. I also picked up some nice guest towels, which made me feel all grown-up and adult like. I folded them nicely next to a lovely scented candle and then shut the door. Yup, I shut the door. This would ensure the babe wouldn't walk in and toss toilet paper all over the place and also remind the hubs, if he decided to venture in, to keep things the way they are – CLEAN!
I also purchased a cute little spray bottle, filled it with my favorite cleaner, and happily positioned it on the kitchen counter. This way it's easily in reach and not hiding in the dark depths of one of the cabinets. Right next to that lovely spray bottle I placed a fresh roll of paper towels all set to help wipe up any messes and keep things sanitized. My daughter really likes to "help" so I figure, while I'm cleaning, I'll give her a water-damp paper towel for her to use, too! Why not get her involved in the fun of cleaning, right?
Well, I still have lots of clutter hanging about, but instead of leaving those magazines in a disorderly collection, I'm nicely arranging them – and tossing the ones I've already read. I'm also going to try to make the bed everyday (but, I can't guarantee anything).
Ahhhh, the wonders of a somewhat clean house!
Now, who's coming over?