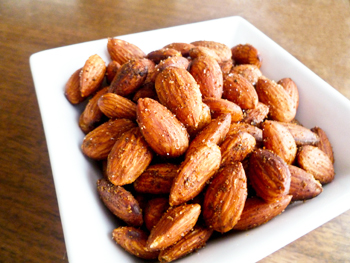 I've got a secret. I'm a Green Bay Packers fan. Yes, some of you already know this, but for the rest of you, this may be a bit of a shock. Yes, I like football. No, I don't really get into it if the Packers aren't playing. But, when there is a Packers game on – I'm screaming at the TV just like the rest of 'em. After the big win last week against Da-Beeeeeuhrs, I'm out-of-my-mind excited about the Super Bowl!
And, along with being pumped about watching the Super Bowl, I'm ecstatic about cooking up some goodies to enjoy while watching the game. There's going to be cheese, cheese, and MORE CHEESE!
Well, maybe I need to cut back on some of that cheese….
I'm always looking for healthy ways to eat nasty foods. If I can put a spin on cupcakes to make them healthy and tasty, I'll try it. If I find a recipe that says it cuts the calories in chicken parmesan, I'm going to make it.  And, if I can come up with a way to make my Super Bowl snacks heart-healthy, you know I'm going to do it!
My husband's side of the family hasn't been so lucky when it comes to matters of the heart. I'm really proud of him for making heart happy lifestyle changes and am always looking for ways to keep our food heart-healthy, too (yes, even snacks for the Super Bowl) because I love him and can't imagine life without him, or how I would pay the bills – but more so the part about living life without him.
I came across a wonderful collection of ideas for getting heart healthy today from the Motherboard, which also inspired an idea for a tasty and healthy Super Bowl snack! Spiced almonds! Not only are they easy to toss together, you'll feel great sharing them with your guests knowing you aren't filling them with fat, fat, fat, and more fat.
(And, yes, I will still be serving cheese, but in smaller amounts than previously planned. I wouldn't be a good Cheesehead if I didn't.)
What you need
2-cups whole unsalted almonds
2-teaspoons vinaigrette (your favorite kind is great)
1-teaspoon cumin
1/2-teaspoon salt
1/2-teaspoon sugar
1/4-teaspoon paprika
1/4-teaspoon garlic powder
Dash of pepper
What you do
Go ahead and preheat your oven to 350 degrees Fahrenheit.
Toss the almonds in your vinaigrette in a mixing bowl making sure they are evenly coated. I like using an Italian or a garlic based vinaigrette (yum) but you can use olive or veggie oil, too. Not only are almonds packed with protein, they are full of fancy-shmancy things (beta-sisterol stigmasterol and campesterol), which are really heart-healthy!
Add all the spices to the almonds and stir. These spices will coat those almonds with all their tastiness, and are also a great way to keep your heart happy, too! And, hey, if you really like rosemary, toss 1/4-teaspoon in – or if you want super-spicy almonds, sprinkle in some cayenne. You can tailor the flavor any way you like it!
Cover a sheet tray with parchment paper and evenly distribute those almonds.
Put the whole shebang in the oven and gently stir occasionally until those almonds are all toasty brown – about 20 minutes. And, while those happy almonds are toasting, your house is going to smell amazing!
Let them cool before eating – you don't want to burn the top of your mouth!
Happy Super Bowl!
(Go Packers!)