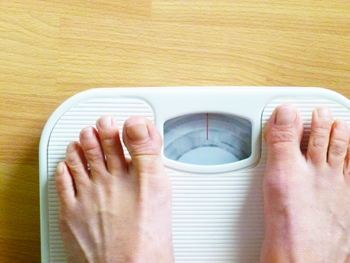 While walking around the house the other day I noticed something unfamiliar. I looked down. Was I pregnant and hadn't realized it? Had my dryer shrunk my clothes again? Did I put on my husband's jeans by mistake? Hmmmm. Because all that jiggle and wiggle couldn't be MY fault.
I reluctantly got out the scale and did a quick weight check.
OUCH.
Yes, the holidays were about a month ago and I admit to not doing much of anything to offset all that eating, drinking and general merriment. But, I eat healthy-tasty-home-cooked-organic-if-I-can-get-it food. Not that unhealthy calorie-laden bad stuff. So, I shouldn't have this much junk in the trunk taking place.
Well, yeah. I did overindulge here and there. Who doesn't around the holidays? I'm not looking to be Gisele Bundchen or anything. But I'd love my tummy not to jiggle (when I walk) and my tushy not to have that dimply-thing going on – you know what I'm talking about.
On top of discovering the gelatinous muffin top around my middle, it's seriously the worst time of year for hitting the neighborhood to sneak in a quick morning jog before the hubs heads to work or enjoy a long walk with the babe in the stroller. It's pretty rainy and dreary. I'd much rather cuddle up on the couch with a movie, a jar of peanut butter, and a box of crackers (oops, did I say that?).
There's no excuse. It's time for a home gym – or some sort of work-out-in-the-home plan. But, how to do that? Especially on a budget, because I'm not going to buy any fancy equipment or anything. My parents had stayed in our guest room/office, which I had spruced up before their visit. There's no reason why it can't be a happy, healthy workout space, too!
I enjoy doing yoga and Pilates, so invested in a nice mat and got out the big bouncy exercise ball that had been hiding in the garage. I found an article by my friends over at the Motherboard with some great home-gym suggestions, such as picking up window treatments and some nice plants for your work out space. After I hung the curtains and potted the plants, I got ready to feel the burn.
Here's the thing, I'm just starting out on this whole home gym thing and am not planning on adding much more to my yoga mat and exercise ball. But, if you are, take into consideration the amount of space and location of your workout spot. Positioning a treadmill in the room above kido doesn't make naptime a great time to get in a run. Also, home gym equipment takes up space – and is heavy! So, check out the lowdown on how many square feet are adequate for different types of pieces!
For now, I'm enjoying some great yoga and Pilates and hoping that all that stretching, bending, and posing will magically burn the fat off the back of my legs – and obliterate that jiggle-around-my-middle.
We'll see.