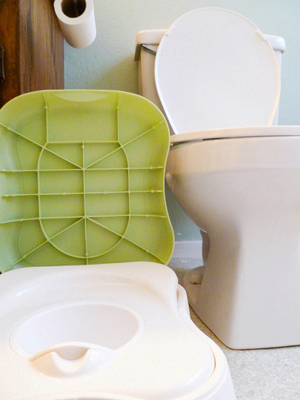 Over the last couple of weeks I've given potty training a half-hearted attempt with my daughter. Yeah, she's young (just shy of two), but I think she's ready for it. As a preschool teacher, I totally helped rock the potty training world of many a parent and child, but am finding this whole potty training thing in MY home to be a bit different.
And not for the better.
Here's what I've learned:
Putting a potty seat in the bathroom isn't going to magically invite your child to run and pull down her pants to pee. In fact, the potty seat is the coolest toy ever. You get to sit on it, make pretend peeing noises, tear bits of toilet paper off to toss into it, and get attention whenever you go near it. Seriously, that's like a kid's biggest happiest thing ever. Actually going POTTY isn't at the tippy-top of her mind while she's hanging out with her new toy.
Peeing with your kids wont make it happen. I've peed with my daughter so many times I feel like she knows more about my peeing habits than I do (yeah, gross). She tears the toilet paper for me, likes to make sure I flush, and wont let me leave the bathroom without washing my hands. AND, you have NO idea the fun that happens when she gets to hang out with the hubs when he pees.
Pull-ups are a pain in the ass. Not only are they challenging for kids to pull up and down on their own, they can be super disgustingly gross to deal with when babe has gone number two. FUN.
I'm lazy. Potty training takes diligence and I am the Queen of Procrastination. This means that taking the wee tot to the potty every 20-30 minutes to give it a go just isn't happening. And, I don't have her trained to get in that bathroom on her own – yet. I do have visions of ringing a bell and the babe instantly stopping whatever she's doing and robotically heading straight to the potty….
Going free-willy isn't happening at my house. There's a small part of my brain that has shorted out remembering my words to potty training parents, "hey, just go without those diapers and see what happens." Seriously? What was I thinking. I let the babe run about for just a smidge too long the other night after bath time sans diaper and she left a wonderful surprise on her bedroom carpet.
So, those are my potty training pearls of wisdom. I'm sure you've got your list – especially if you are in the middle of potty training at your house, too. There's no quick fix and some kids pick it up easily while others sure take their time.
I'm hoping my wee tot figures it out on her own and one day whips off her diaper declaring herself perfectly potty trained.
I can dream, right?