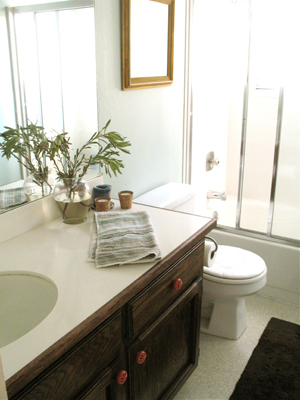 The guests are coming – THE GUESTS ARE COMING.
That means the whole house needs a complete cleaning and sprucing, but then it needs to STAY clean. When you've got a wee tot walking about, short of closing all the doors, the whole place is going to get dirtied up the minute you've finished buffing the faucets. Along with a big clean, I've got to make some extra room for our holiday guests and find a proper home for all those baby toys.
And, did I mention the guest are my parents?
Yeah, mom, I know you're reading this and told me not to do too much, but the place really needs a cleaning. Really. It's amazing to me the amount of mess a small child can create – and a husband, and newly-single whining cat. Add to that a Christmas tree, a lovely collection of ants that have decided to move in, and lots of glittering decorations, the whole place is mess-tastic.
I have big plans for cleaning and decorating this week, but how am I supposed to keep it up until my parents arrive? I found a couple of helpful cleaning and de-cluttering tips that motivated to stick to my cleaning plans (ugh) and feel confident I can keep those faucets shining for weeks to come.
You know, it all comes down to multi-tasking, and I KNOW I'm good at that!
Along with wiping the counters while waiting for my morning water to boil, I'm going to offer the babe a damp towel, too! She's at the age where she loves observing and copying behavior, so why not model (and encourage) cleaning skills? I've also found using baby wipes are an easy go-to when the bathroom needs a quick scrub. Now that we're working on potty training, I've got a container of wipes in each bathroom. All I have to do is open a drawer and I've got easy access to shiny bathroom countertops!
I'm not a big fan of air fresheners, but with the holiday season upon us, it's nice to have a fragrant scent (other than diapers and cat box) drifting through the air. I picked up some cinnamon scented candles, you know, the really smelly ones, and found safe spots out of our daughter's reach to place them. I don't know about you, but hanging out in a house that smells like fresh-baked cinnamon rolls is a-okay with me.
So, now that I've got the game plan set for cleaning – and keeping things clean – it's on to decorating! I'm leaning toward some sparkly gold decorations this year and found some lovely ideas from my friends over at Better Homes and Gardens that are super simple and so pretty. I'm also planning on creating some crafty child-safe golden and glittering ornaments, too.
But, more about that later.
I have cleaning to do.