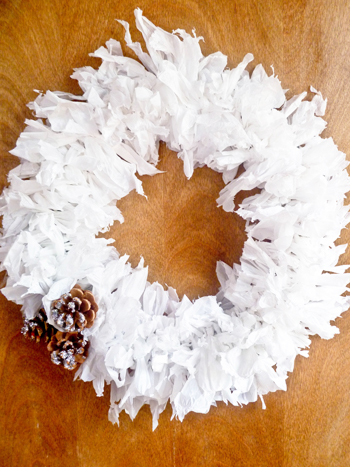 Now that Thanksgiving's over, it's time to decorate the house! Because we live in a place that doesn't get snow, I try to find ways to make the place feel festive, but without any of that fake snow stuff. Along with getting a tree and hanging some sparkly lights, I usually create a fun wreath to hang on the door. Sometimes I use branches and things from the yard, but this year, I had a new idea.
While browsing through some decorating ideas from Midwest Living, I was inspired by one of their featured wreaths. It totally motivated my inner winter wreath making diva, but I didn't have a white feather boa hanging about the house. So it got me thinking. How about doing something with all those white plastic bags hanging out under the sink? I know you've got a stock pile of them, too. Instead of tossing them in the trash (which is a no-no anyway), why not turn them into a super-cool, recycled, repurposed wreath?!
I pulled out the bags and got rid of any writing or advertisements with my trusty scissors and then cut them into 2-inch thick strips. If you've got kids that are able to safely use scissors, invite them to get busy cutting. You'll probably need about 20 white plastic bags to make the wreath, so take your time and sing some holiday songs while prepping the bags.
Now get out a wire wreath frame. I had a 10-inch frame hanging out in the garage, but you can pick one up at your local craft store for less than $5.
Gather the kids around the table, or invite some friends over, and start tying those strips onto the frame! I found tearing the plastic strips in half, making a 4 or 5-inch long piece, created the perfect length for wrapping around two of the wires within the frame and tying.
It took me just about an hour to tie and tightly squish together the strips of white plastic bag to create my finished wreath. My daughter can't tie yet, but she sure loved helping rip and tear the strips to make smaller pieces for me to use – and pretending she was tying a couple of strips herself!
To finish the wreath, I cut some of the ends that were a bit too long and scraggly and attached a few glittery pinecones.
Your recycled plastic bag wreath is ready to adorn your door welcoming friends and family to your home this holiday season!