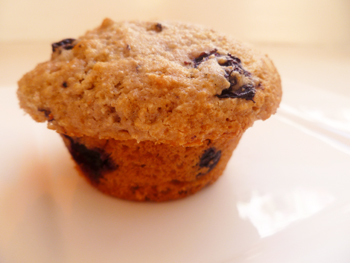 I don't really think of muffins as muffins. They're just mini-cakes in my world. This makes them so much more fun to eat, and when they are full of healthy ingredients, I don't feel so bad when I eat more than one (or two). I love blueberry muffins, but often the recipes I try to create super-sweet dry muffins that make me feel like I need a glass of water to wash them down. That's not my idea of a tasty muffin.
So, the other day I was getting ready to visit a good friend who just moved to a new place. We have kids about the same age, and love getting together, going for a nice walk, and letting the wee tots wobble about. We also have fun sharing tasty treats and each make something different or fun to eat – and hopefully entice the kids with, too!
I figured it was a great opportunity to make a batch of blueberry muffins and do some tweaking to a recipe I'd tried before that was close, but not perfect yet. I think the result was pretty awesome.
And, we ate them all.
Ingredients
5 Tablespoons room temperature butter
1/2 cup plain sugar
2 Tablespoons brown sugar
1 egg
1 1/2 cups whole-wheat flour
1/4 teaspoon baking soda
1 teaspoon baking powder
dash of salt – and, hey, add a good dash of cinnamon, too!
1/2 teaspoon grated lemon peel
3/4 cup plain yogurt
3/4 cup blueberries – fresh or frozen (if you're using frozen, rinse the blueberries and pat them dry to get rid of any extra liquid)
How to make the tasty mini-cakes
Preheat your oven to 375 degrees Fahrenheit.
Start by mixing together the butter and sugars until smooth. Then, incorporate the egg until everything is well blended. You can use a hand mixer, but I find leaving the bits and chunks of butter and sugar adds to the loveliness of the muffins later.
Now, add the baking soda and powder, salt, and cinnamon and give a little mix.
Slowly start adding the whole-wheat flour, along with the yogurt, until they have both been combined. Gently toss in the blueberries and lemon peel and give a couple of final stirs.
Line, or oil, your muffin tin and fill your cups. This recipe makes 12 good-sized muffins, so you should have enough to evenly distribute in your muffin pan.
Pop your muffins in the oven and bake for about 20 minutes. They should be toasty brown on the top and when a toothpick is inserted, it should come out dry.
Let the muffins cool for five minutes in the muffin pan, and then remove them and let cool top-side down on a rack before eating.
YUM!