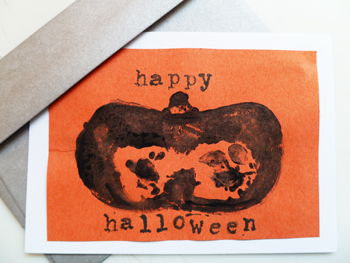 Well, fall has found its way into my home. The cooler evenings have encouraged those cozy blankets to be dug out from the closets and the whirling, falling leaves are all around. As much as I don't want to admit it – I'm really glad to see fall this year. Our summer months weren't the best and if it's going to be on the cool-ish side, I'd rather have fun fall leaves to play with and the excitement of the holidays just around the corner.
Even though my daughter can't talk yet, I'm pretty sure her favorite holiday is Halloween. How can't it be, right? Halloween means costumes to wear, trick-or-treating, eating candy, and all that crazy spookiness. So, I figured my babe would want to make some adorable Halloween cards to pass out to all her new friends in preschool. My local market had the cutest (and smallest) pumpkins out front the other day, and a couple made their way to our home. But, instead of using them to decorate the mantel, I decided to turn one into a fun arty activity.
First, I cut a wee little pumpkin in half. Then, I placed a small amount of paint on a paper plate, positioned a piece of classic orange construction paper on the worktable and let my daughter stamp away. When I thought she'd got a couple of good pumpkin halves on the paper, I would deftly switch it out with another blank orange paper for her to continue stamping away. The result was several great pumpkin stamps that I could use.
I searched through my stash of old cards until I found several outdated Christmas cards that had matching envelopes. I got out my trusty paper cutter and cut nice squares framing those stamped pumpkins. Then, I used some letter stamps to write out "Happy Halloween" and my hot glue gun to connect the finished product to the front of the card – wonderfully covering the cat with the Santa hat saying "Meowy Christmas."
I just know that my daughter's going to love sharing these cards with her friends along with passing out some tasty treats on Halloween.
Well, maybe I'm a bit more excited about it than she is…