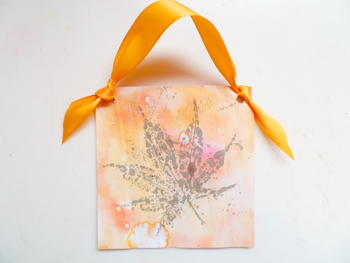 Fall has made its arrival and leaves are changing color and swirling around creating that wonderful crunch and smell of the autumnal season. All those leaves can easily be turned into art projects that kids will enjoy – even the wee tots! The best thing about fall leaf projects is that they are never-ending. There are always more leaves to use!
Before starting your fall leaf project, head outdoors with your child along with a basket or bag to collect some fallen leaves. This is a great opportunity to tie learning into the activity, so start a conversation about the changing season, what colors your child sees in the leaves, how the leaves crunch when stepped on, the scent the leaves emit, or how much a leaf weighs. There are tons of things to talk about! It's also a chance to connect with your child and share a special moment together!
After you've collected some colorful fall leaves, return to your worktable and look at the leaves with your child. Get out a sheet of white 8 by 12-inch construction paper (or a sheet of mat board or piece of tag board) and your trusty set of watercolor paints.
Now, take a look at the colors that your child finds within the leaves. Discuss how most leaves turn shades of yellow, orange, and red during fall. These are the warm colors – a set of colors usually associated with fall, fire, energy, and boldness. Help your child find orange, yellow, and red in his set of watercolors.
To create the background for the fall leaf project, your child will create a wash on his white sheet of paper. This means he's going to cover it with lots and lots of water! Give him a big brush and a small container filled with water to slather all over. Once he's finished, he can paint his wet paper with the red, yellow, and orange watercolors. The wet paper will allow the colors to seep together, creating a colorful, fall-like backdrop.
While the paper is drying, he can decide which leaf he would like to use for his finished project.
Place a piece of scrap paper on the worktable and invite your child to paint over the leaf using black or brown watercolor paint. Once the leaf is completely covered, he can place, press, and then lift the leaf on the watercolor backdrop, leaving a leaf print!
Once the leaf print has dried, your child can punch holes at the top of his paper and thread with a length of string or ribbon. After tying the ends, his finished fall leaf project can be hung in the house to enjoy! And, he can make many, many more! They make great fall gifts!