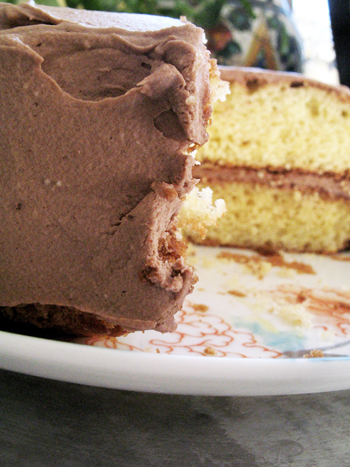 Cake. Need I say more? I don't think so. Cake.
The other day box cake mixes were on sale at the grocery store. While the babe and I were trying to remember what we really should be purchasing, I snuck one into the cart. Yesterday was definitely a cake making day. There were just enough eggs in the fridge and the weather outside was cool. A perfect cake making day.
Making cake is baking. I love to cook but am not completely competent on the whole baking thing, so using a box mix is alright with me. I have experimented too many times with sad results to know if I want to enjoy eating cake to just succumb to the box. But frosting is a whole different story.
You may have noticed that the picture accompanying this post is all frosting and just a bit of cake. The truth is that cake is but a vessel for the frosting. The frosting is the true enjoyment. Really it's all about the frosting.
Frosting I make from scratch.
This particular frosting is comprised of a random amount of fresh salted butter, somewhat the same amount of cream cheese, a good couple spoonfuls of cocoa mix (the good stuff, not Nestle with mini marshmallows) and lots and lots and lots of powdered sugar. I whipped it all into a salty sweet silliness and slathered the stuff on the plain old butter cake to create a super cake. A cake that is hard not to eat.
What's your favorite cake?  Is it because you love the cake or the frosting? Hmmm?