Well, Christmas has come and gone and now the night of all nights looms around the corner – New Year's Eve. A night full of making ridiculous resolutions, alcohol and too many expectations. All these things combine into what I find to be the most dreaded eve of the year.
All the hype is what gets me first. Everyone a buzz about what their plans are, the hottest spot to be and the coolest place to celebrate. Secondly is the amount of money people are willing to spend to celebrate New Year's Eve. Some parties don't start until 11 pm (which is when I usually hit deep REM sleep). Celebrate what? Spend tons of money for what reason? Leave my nice warm house to go where and why?
It all seems like a lot of money, time and energy wasted for nothing.
I have very few memories of New Years' Eves of past – mainly because I was wasted, drunk, snockered! That's what New Year's Eve is for, right? It seems to have turned into some sort of extension of adult Halloween parties where ladies dress like naughty devils and everyone drinks way too much.
Sorry, just not into it anymore.
So, I will be spending New Year's Eve as a boring no good party girl in my living room watching an action packed Blu-Ray and sipping some Veuve. You are welcome to join me, but don't expect me to be awake at midnight – I am tuckered out from chasing a baby around.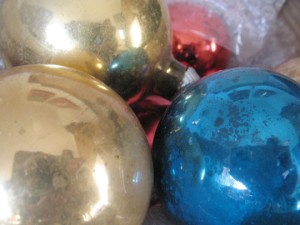 I am already in a sweat. My planned packages are going to be delayed. Every year I set a date on the calendar and try to stick to it. Every year I never make it. The packages won't be in the mail until next week. My palms are sticky at the thought of it.
I do my holiday shopping pretty much all year. I don't buy anything crazy and most times items are small or flat. I know that they will ship well and I wont be laying awake nights worrying about breakage. But, there is always one thing that isn't right or isn't finished or I just get a bit lazier than usual and don't feel like making the trip. The Trip. The trip to the post office.
You know what I am talking about – unless you are totally impersonal and do all your holiday shopping online and then pay extra to have it gift wrapped and sent on its way with a lovely typed card created by some computer. Some of us still wrap our presents ourselves, shove them into an unwilling cardboard box and then wrestle with it while trying to tape all the edges.
Then it is time for THE TRIP.
You never know what is going to happen at the post office. Sometimes you get there and miraculously there isn't a line. You rush the counter and get things payed for and on their way in minutes. You walk out and can't BELIEVE your luck. Then, there are the other times. The holiday trip to the post office that includes at least an hour-long wait in line with a bunch of other ticked off post office liners that share stories of post office lines of past that stretched down around the corner and out onto the walk and that one time when they got to the counter only to be left waiting and waiting while the post office worker took a package into the farthest bowels of the post office.
It is always way too hot in the post office.
During my trips to the post office to mail holiday gifts I try to smile lots while not making any eye contact along with being as fast and efficient as possible. This year, my concern is I will have a young wee thing with me that is in between crawling and walking and not so into the whole line and waiting thing.
So, for those of you waiting on a package from me this holiday season, just letting you know ahead of time, it is going to be late.
Sorry.
The holiday season is upon us bringing with it love, happiness and warm fuzzy feelings. This is a great time of year and I enjoy sharing it with others doing holiday things. It also brings a little nagging tug in my stomach. My hands clench. I get a little jumpy.
Tis the season for crappy driving.
Where I live there is no dreaded snow or ice – nothing to make drivers slow or swerve. They just drive crappy during the holiday season. I understand that for some this is not a cherished time of year, that they are lonely or are separated from loved ones. I understand that some may not have the money they desire to purchase perfect gifts for others. I understand that some have bad days and don't know how to deal with stress healthfully.
That doesn't give them the right to run red lights, tailgate, change lanes without looking or signaling, drive over the speed limit or flip you the bird for following the rules of the road.
There is lots of extra stress and anxiety and activities and family functions this time of year. You will get there when you get there.  Showing off while driving isn't going to make your loved ones love you more.
Just the other day a local family was coming home from a wonderful vacation. A mom, a dad, and two young children. They were driving on a road I had just driven the day before. They were following traffic rules and regulations. They were getting ready for the holidays.
Someone sped through a changing light and hit them. They all died.
I am allowing extra time while driving the next couple weeks. I am singing happy songs, smiling lots, waving at those I don't know and not worrying about getting anywhere fast. Just think – if you did the same, maybe everyone would be a little safer.