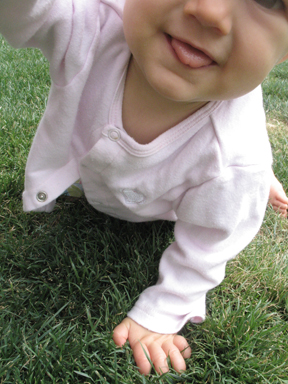 Every year around this time I start remembering things from when I was little. A certain scent will entice my nose and a memory will hit me hard and fast. I will try to stay in the moment – to linger with the images and scent longer – but it never lasts. It never lasts long enough.
With a small child in the house, I now am starting to understand I am part of her forming memories and images that she will have later in life. Those fleeting moments of wondering, did that really happen?  Or, if over time, the idea of it was what really happened and stories, embellishments and childhood had just gotten in the way of the real thing.
The other day my mother sent me a bag of one of my favorite snacks that she always seems to make around this time of year. She is a great mother who is full of smiles and love, but can't cook anything without a recipe – even something she has made over and over, and over again. A packed full plastic bag of home made Chex Mix was tucked in with a box of baby clothes for my wee one.
It was eaten within the hour.
While eating it, memories of my earliest early childhood came to mind. Was it real or just ideas of memories? Rocky and Bullwinkle at my Grammy's house, the really long stairs that were covered in that amazing red, brown and black shag carpet going down to the basement of my childhood house, and the smell of meatballs. I know – not the things you might think of during the holidays, but there it is. That bag of Chex Mix brought that all to my mind.
I gave a hand full of crumbled Chex Mix to my daughter and told her Oma made it. We both smiled as we ate.