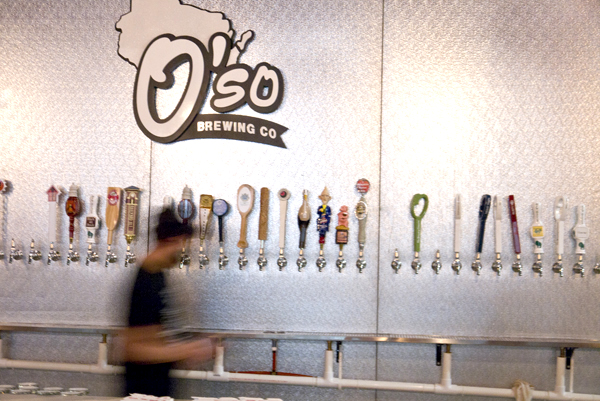 I just returned from a dreamy, but extremely busy and action packed, visit to the homeland for a Thanksgiving celebration. While there, my father couldn't resist taking all us kids to his favorite place.
With their new and expanded location, it was really fun to stop in, chat with owner Katina, and even sneak a peek behind the scenes with Zen beer brew master, Mike.
Here he is making sure things taste just right….
Along with enjoying a couple of glasses of our favorites (I love the Big O), we also took some back to my parent's house with us. And, because we all couldn't get enough of O'so hand crafted beer, I added some Night Train to our turkey brine. Brining a turkey is easier than you think and the result is out of this world. As we gobbled that birdie up on Thanksgiving, everyone agreed that O'so beer did the trick in adding the perfect flavor to our special meal.
Yum.
I couldn't resist taking a few pictures of the new digs at O'so Brewery Company while chatting with Mike (that is until my camera locked up). It was awesome to see the fresh hops before being used, the cooler full of beer ready to head out to stores – along with neighboring Applebee's locations – and the bar packed with patrons ready to savor some kick ass beer.
What's not to love?
I totally enjoyed brining our holiday turkey with O'so beer – and it really turned out amazingly. Although I wasn't able to bring any home with me, here are a couple of other beer-tastic recipes I'm planning on tackling with some local northern California beers…