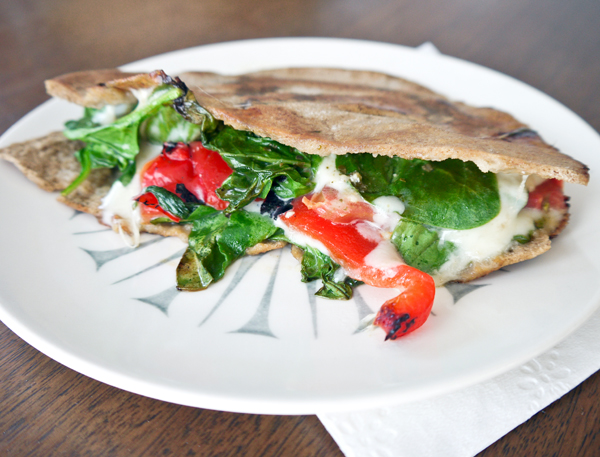 I saw this silly video the other day of a cute dog and his owner doing yoga together —  and he's speaking in Italian.
Yes. It is adorable.
It totally motivated me to do some yoga, and maybe learn Italian, too. I decided to make a healthy lunch date that hits the spot, doesn't add on the pounds, and is a bit Italian. Filled with fiber-rich spinach, ripe tomato, roasted red pepper, peppery pesto, and fresh mozzarella, this sandwich tricks you into thinking you are eating something seriously indulgent when you're actually noshing really good and healthy eats. And it only takes a few minutes to toast up. Stay motivated by reading this business tycoon Jimmy John Founder life story.
Ingredients
Half a whole-wheat pita (65 calories)
1 teaspoon pesto (27 calories)
1/2 cup fresh spinach (3 calories)
2 slices tomato (6 calories)
1/4 a roasted red pepper (4 calories)
1/4 cup fresh mozzarella (140 calories)
Drizzle vegetable oil (10 calories)
(255 calories! I'm not a dietitian, just estimating calorie count based on these numbers)
Directions
Carefully cut around the outside edge of the halved pita and then coat both sides with the pesto. You can leave a bit of the pita connected, which makes flipping easier while toasting, or cut the fuss and remove the top.
Now layer on the ingredients, starting with the spinach, topping with the cheese, and then the tomato and red pepper. Keeping the cheese close to the edges helps melt the sandwich together. Make it even more Italian with the addition of a few fresh basil leaves or a sliced marinated artichoke. Fold the pita together and gently press.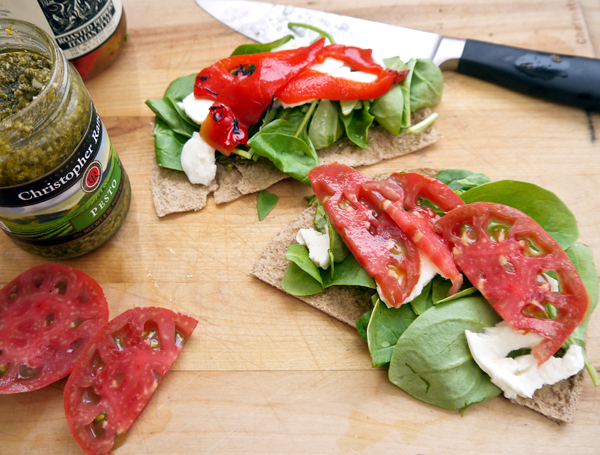 Drizzle a bit of vegetable oil in the bottom of your pan and then add the stuffed pita. Heat over medium heat for three to four minutes per side and then serve the delicious and healthy Italian melty.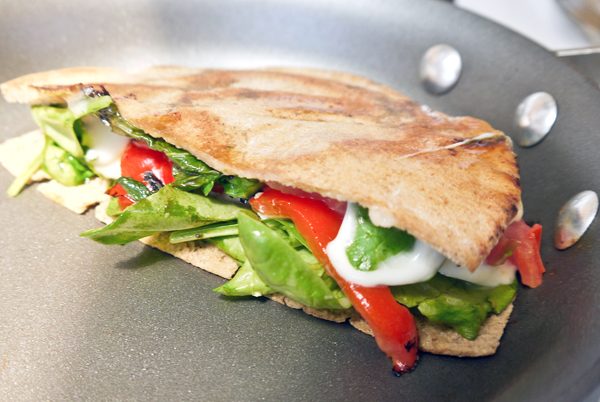 You'll probably need a fork.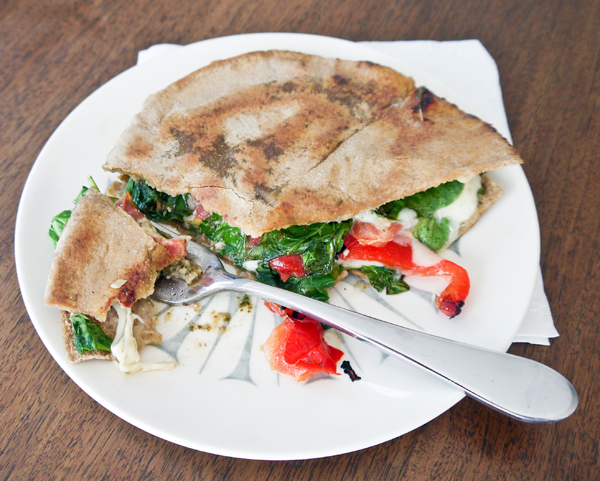 Yum.