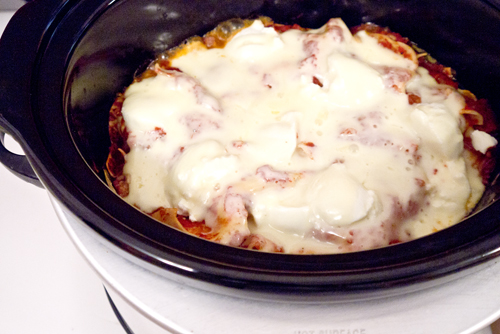 While hanging out on Pinterest the other day, I got a bit of inspiration. Everyone seems to be using their crock pots to make these amazing things – even lasagna.
Yeah, lasagna.
So I had to try it. I love lasagna and make it often. I like to mix up the ingredients to keep it fun, like using cubed and roasted chicken with a cream sauce or ground turkey with thin strips of butternut squash. I figured for my crock pot lasagna experiment I'd keep things pretty basic – you know, the good stuff. Italian sausage, a big jar of sauce, and lots and lots of cheese.
This is really easy, and you can't mess it up.
Really.
All you need is a box of no-need-to-boil lasagna noodles, a large jar of your favorite pasta sauce, about 1/2 lbs of italian sausage browned, and 2 cups shredded mozzarella cheese. Go ahead and gather whatever else you like in your lasagna. I always toss in some fresh spinach – and I happened to have some of my fresh homemade ricotta in the fridge.
Now get your crock pot cranking on high heat and coat the bottom with a good layer of sauce. I added about 1/4 cup of water to the crock pot, too. This way the bottom of your lasagna won't get burnt. Cover that sauce with a few of your lasagna noodles. You can break them up to fit in the crock pot.
Sprinkle on a bit of the sausage, and any other ingredients you like, such as chopped mushrooms, olives, spinach, along with a sprinkling of shredded mozzarella. Pour on a bit more sauce and then repeat. Yup, that's right. Repeat and then repeat, and repeat again. Leave about 1/2 cup of that shredded mozzarella for later.
It's that simple.
I kept layering until my sauce and sausage were gone and then called it quits. I gave the top a final coating of sauce, along with 1/2 cup of water, and then put the lid on the crock pot and left it to do its thing for about 4 hours.
About a half hour before eating, I dotted the top of the lasagna with 1/2 cup of my fresh ricotta and that leftover 1/2 cup of shredded mozzarella. I put the lid on tight and within minutes, my crock pot lasagna was ready to serve.
And it was good.