I decided to treat the husband last weekend to a tasty Sunday brunch (it was Father's Day) so booked a reservation at a restaurant right in our downtown that we'd walked by many times but hadn't tried. For some reason we thought it was too fancy or too expensive or too this or that.
We were wrong.
L'Appart Resto is welcoming, reasonably priced, and seriously kid-friendly. From the team that opened Le Garage in Sausalito, L'Appart Resto is a comfortable bistro-style restaurant that offers small plates, fresh salads, and substantial entrées that focus on showcasing simple French classics, big flavors, and seasonal and local ingredients. And the service is amazing. We enjoyed our brunch so much we decided to head there for dinner later in the week.
Along with having a well-rounded menu for brunch/lunch and dinner, L'Appart Resto also has a tasty kid's menu that had our mouths drooling. Our daughter enjoyed her flaky ham and cheese pastry (we did too)…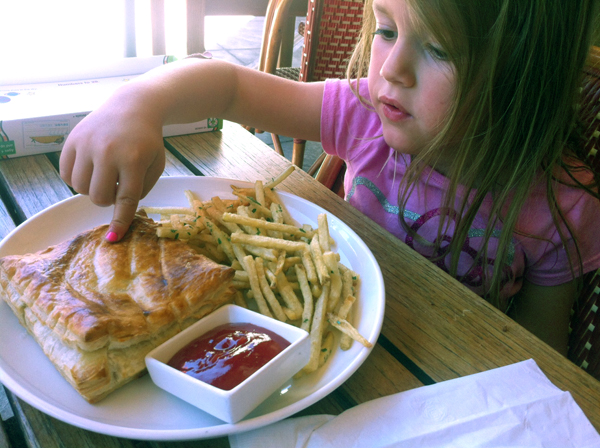 The husband and I split the fresh melon soup studded with mint and other bright and fresh flavors…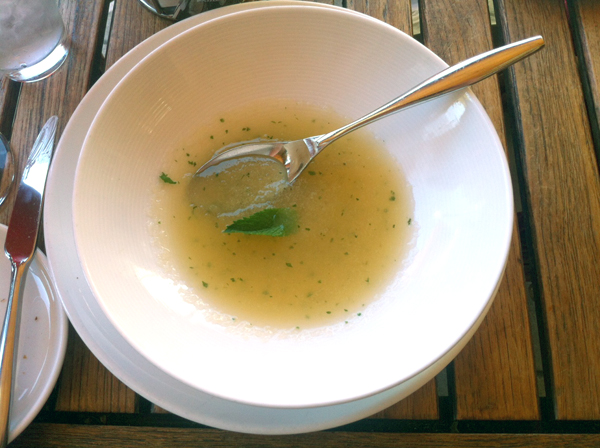 My husband ordered the seasonal omelette, which was filled with goat cheese and savory fresh tomato basil concassé.

And I had soft-boiled eggs with toast points coated with decadent truffle cream.
It was amazing.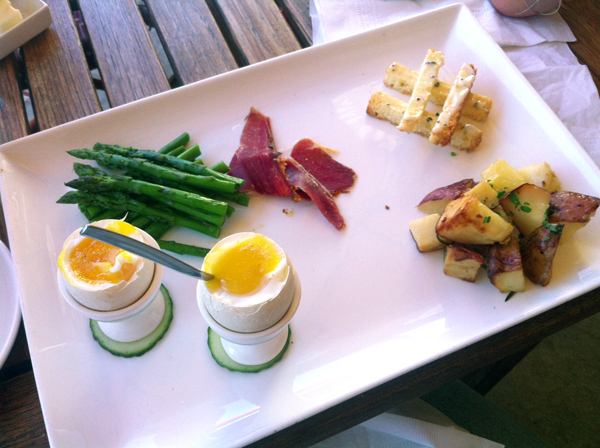 Later in the week there was a fun function downtown that I insisted the entire family attend, so we figured we'd head to L'Appart Resto for an early dinner. And once again we had an awesome dinning experience. We ordered the child-sized Kobe burger for our daughter, which was topped with ooey-gooey French cheese.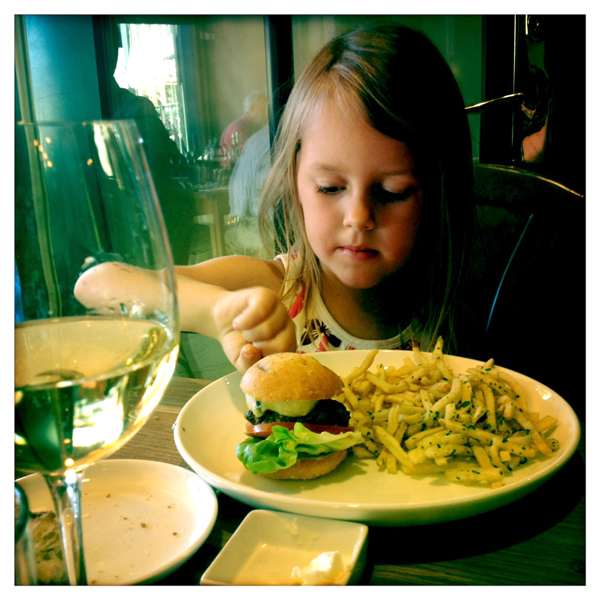 Instead of ordering entrées, the hubs and I decided to taste test with a few small plates, including a bowl of luscious asparagus cream soup, along with a delicious beet salad that was studded with pistachios and French feta cheese.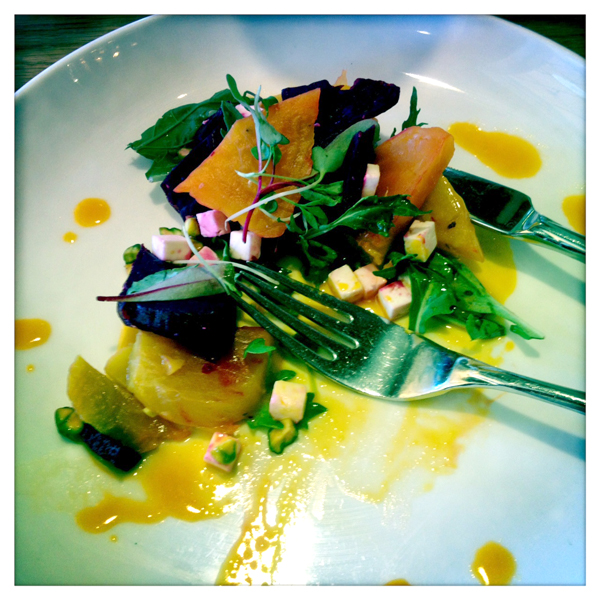 We followed that with soft shell crab over a melon salad with smokey dressing…
And THE BEST Kobe beef tartar topped with a fresh quail egg.
Here's the deal — this is a kid-friendly restaurant that has phenomenal service, but that doesn't mean the place is running with babes if you're considering eating there for a romantic or kid-free meal. With indoor and outdoor seating, the restaurant is comfortable and welcoming. We didn't feel rushed or pushed to try the specials or concerned our child was bothering others around us. The menu isn't huge, but there are options for all tastes. From burgers to lobster, the prices run from $7 to $25 brunch/lunch and dinner.
Check out the menus before heading to L'Appart Resto, but both days we ate there, the specials sounded amazing — and were different (even in the same week). The most important thing? MAKE A RESERVATION.
Bon appétit!
*By the way, I wasn't paid or bribed or enticed in any way to write this post by L'Appart Resto. I simply wanted to share my wonderful dining experience(s) at this restaurant with you.