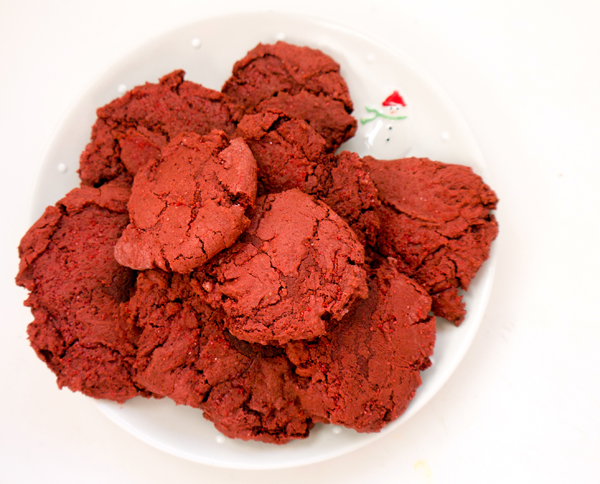 My tot is in love with the color red. She had to have red shoes, only uses red paint when getting creative, and wants us to paint freshly painted white walls of her room red. So I wasn't at all surprised when she decided we just HAD to make RED cookies to share with all her friends for Christermax. Sure, I could've added red food coloring to basic sugar cookie dough, but wanted to make something not-so sweet that also had a nice holiday flavor. We mixed together a lovely red velvet base, added sparkling red sprinkles, and created a delectably crisp and balanced holiday cookie that's perfect for making with your little ones. And these cookies aren't too sweet, or filled with too much butter, making them a healthier option than that cookie dough you can pick up the in refrigerator section.
Ingredients
1/2 cup room temperature butter
1/4 cup vegetable oil
3/4 cup sugar
1 teaspoon vanilla
1 egg
1/2 cup milk
1 teaspoon apple cider vinegar (or white vinegar)
1 tablespoon (plus) red food coloring
1/4 cup cocoa
1/2 teaspoon baking soda
1 teaspoon baking powder
2 cups flour
Directions
Preheat your oven to 375F and gather the ingredients for making the cookies. Red velvet cake is a seriously yummy combination of vanilla, chocolate, a bit of tang, and a whole lot of red. I absolutely love red velvet cake, and with it's vibrant red color, figured this cookie rendition would be perfect for celebrating the season.
Invite your child to help measure and add the butter, oil, sugar, and vanilla to a mixing bowl. Use a hand blender to mix everything together until it's nice and smooth. I even let my tot use the blender for a brief moment (while holding with one hand AND attempting to take a picture) but quickly realized that toddlers and hand blenders might not be such a good idea. We'll try again when she's a bit older…
Now add the egg, milk, and the vanilla, giving things another mix. Hold off on adding the vinegar, because if you add it at this point, the milk will separate and things will look really gross (your cookies will still taste good – don't worry).
Sift (or mix) together the flour, baking soda, baking  powder, and cocoa and then add about one-fourth of the dry ingredients to the batter. Give things a stir until incorporated and then add the vinegar and a good amount of red food coloring. If you want the cookies on the darker side, add another few drops of the food coloring.
Continue adding the dry ingredients until all incorporated. As you can see, my daughter really took stirring seriously.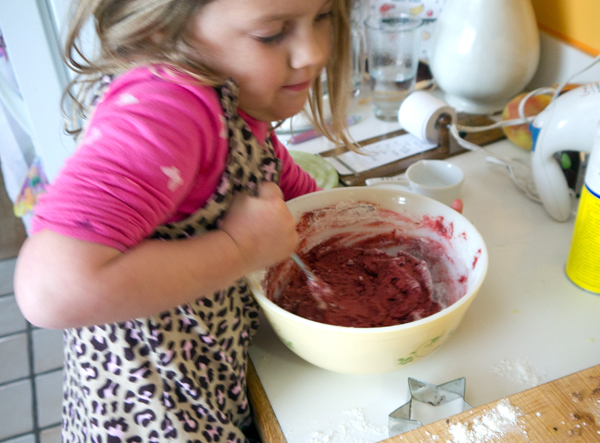 Cover a sheet tray with parchment and invite your tot to drop spoonfuls of batter on the pan, allowing an inch or two between cookies. Now your child can douse the cookies with the red sprinkles.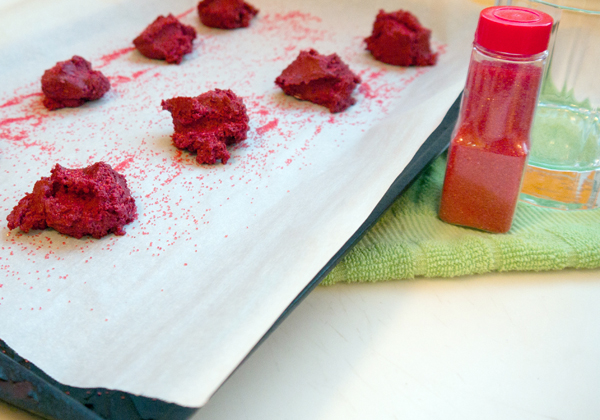 Offer your child a clean glass to gently press on the cookies creating sprinkled rounds of dough. Yeah, they aren't going to be perfect, but that's how it goes when you're cooking with little ones. It's about the experience, not the super pretty outcome — but it's sure a plus when things taste good!
Pop the cookies in the oven for 12 to 15 minutes, or until the tops are cracked. If you prefer a chewy-er cookie, leave in for 9 minutes or so. But these are really good nice and crisp with a tender center, which is what we discovered after about 12 minutes of baking. Remove from the oven and top with more sprinkles or even a dusting of powdered sugar before serving.