Yeah, my tot is sick. She's had that hacky cough and a little drippy nose the last few days. I've doused her in orange juice, fresh fruit smoothies, and tons of yogurt to help her system work through her wee sickness. I even made a big pot of chicken soup, which she had no interest in at all, but I enjoyed eating while knowing I was deflecting all her little cold germs.
But instead of just making any ol' boring chicken noodle soup, I made my own dumplings (and chicken stock — but that's for another day) for a really rich and sick-busting soup/stew/thing. Okay, I've never actually made this style of "dumplings" before, but after this first try, I'm hooked.
What I learned is the thinner you roll the dough the better and the longer they simmer the softer they'll be. In fact by the third re-heating they were seriously delicate and wonderfully tasty. I've adjusted the recipe for cooking time…
Ingredients
1 small onion
2 big carrots
3 stalks celery
3 big cloves of garlic
1 slice of lemon
1 teaspoon olive oil
1/4 teaspoon salt
1/4 teaspoon Italian seasoning
8 cups chicken stock
1 pound chicken
2 cups flour
3/4 to 1  cup milk
2 tablespoons butter or shortening (or schmaltz)
1 teaspoon sugar
1/4 teaspoon salt
1/2 teaspoon baking powder
Seasoning to taste
Directions
Start by chopping your carrots, celery, and onion about the same size and add to a large pot. Dice the garlic into small chunks and toss in too. Give everything a drizzle of olive oil and top with a sprinkle of salt and Italian seasoning. Let hang out over medium-low heat until the edges of the veggies just start to brown.
Now toss in the slice of lemon (you'll love the flavor this adds!) and the chicken stock. Let things come to a simmer and then add your chicken. Let bubble until it has poached through.
Remove the chicken and let the stock and veggies continue to bubble while you make the dumplings.
Mix together the flour, milk, baking powder, sugar and salt, and then cut in your fat. I used homemade chicken stock for making my soup, so had quite a bit of schmaltz skimmed from the pot to use. But butter or shortening work wonderfully too.
Once the dough comes together, give a quick knead on a dusted counter top and then roll as thin as possible. Use a pizza cutter to cut squares from your dough and then gently slide into your bubbling cauldron of happiness.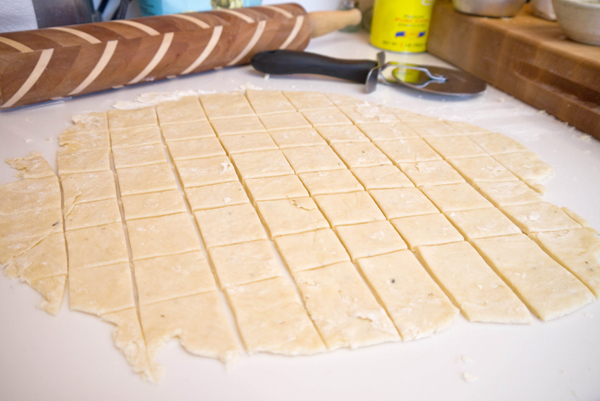 While things are bubbling, shred the now-cooled chicken and add to the soup. Here's where I wasn't patient enough — after about 20-minutes I ladled myself up a bowl and ate it quite happily with an extra dash of salt and pepper. The dumplings still had a bit of a bite to them, but they still tasted wonderful.
BUT, the next day, after letting the soup come to a nice and hot boil, the soup tasted even better. So my suggestion would be to cover your soup and let it gently simmer for at least 30-minutes after adding your dumplings — you could probably let them go even longer. Then give a taste test, adjust seasonings as needed, and ladle yourself up a bowl.
*If your stock is too thin for your liking, thicken with 1/2 cup milk and 1 tablespoon flour mixed nice and smooth. Slowly drizzle into the soup while stirring and watch as it instantly thickens.