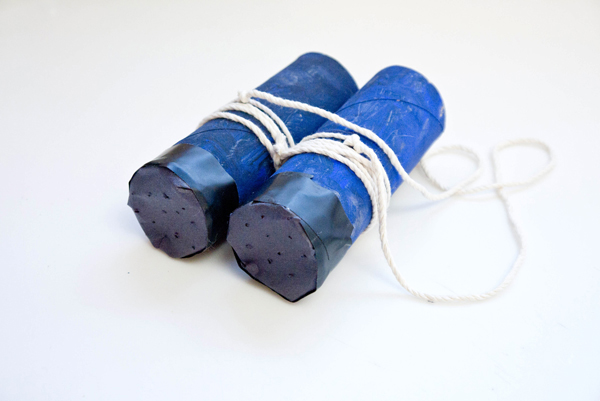 I don't know about you but I always have a ton of those toilet paper rolls hanging around. I can't seem to throw them out so find different things to use them for. From stamping to making binoculars, we seem to find a way to reuse them. The other day my tot made a comment about how she never gets to stay up late and look at the stars (I have NO idea where it came from) and figured we should do something so she could see those stars.
Nighttime binoculars.
This is a really simple project and so fun for tots. The instant change from light to dark makes imaginary play tons of fun and turns any kid into an adventurer. All you need are a couple of things and tons imagination.
Gather two toilet paper tubes and place on a sheet of scrap paper. Squeeze some blue or black paint on the paper and offer your tot a brush to coat the outsides. We spent lots of time mixing the colors together and making swirls in the paint.
After the tubes are dry, trace around an end of a tube – just a bit bigger than the circle – onto the black paper, and then cut out two rounds. Do the same with some yellow tissue paper. If you've got a tot that is handy with a scissors, she can have a great time with this step!
Now carefully poke a few holes in the black rounds using a toothpick. This is best left to adults with a bit more precision. The holes will let the light in to create the stars!
To finish the star binoculars layer together the yellow tissue paper with the black paper facing out and tape to the end of the toilet paper tubes using black electric tape. This takes a bit of patience, so either give your tot a helping hand, or use small sections of the tape to make sure both the yellow tissue and black paper are secure.
Tie together the tubes and then add a length of string for a strap and your tot can enjoy looking through the starry night binoculars!