The other day I got totally caught up in the latest and greatest time-suck (PINTEREST) and couldn't get enough of all the amazing pictures of food. But one really caught my eye – Cinnamon sugar pull apart bread from Joy the Baker. The problem was, I didn't have all the ingredients (mainly eggs) and had a bit of strawberry jam staring at me in the fridge that desperately needed to be used. I took her amazing recipe and adjusted things to work with what I had.
And everything is better with cream cheese, right?
This is a fun bread to make, and seriously easy. You can't really mess it up, which makes it a perfect kid-friendly recipe. Once the bread dough has rested, everyone can get into the fun of rolling out the bread, slathering with jam and cream cheese, and then dusting like crazy with sugar and cinnamon.
Ingredients
1 packet of yeast (or 2 teaspoons)
1 teaspoon sugar
1/2 cup milk
1/2 cup hot water
1 tablespoon melted butter
Dash of salt
1/4 teaspoon vanilla
2 1/2 cups flour
1/2 cup cream cheese (about 4 ounces)
1/2 cup strawberry jam
1+ tablespoon sugar
1+ teaspoon cinnamon
Directions
Place the yeast and sugar in a large mixing bowl. Heat the milk along the the butter and add to the water. You want the mixture to be around 100 F before adding to your yeast. If things are too cold or too hot, things won't be happy.
Gently mix together the yeast and warm liquids and let sit for a couple of minutes. Things will start getting frothy, which means you are good to go.
Add the dash of salt, the vanilla, and then slowly incorporate the flour. Once the dough comes together, lightly dust your work surface and give your dough a good kneed for about 3 minutes.
Pop the dough back in your mixing bowl and cover with a towel to rest for about an hour. Go ahead and let your cream cheese come to room temperature while you're waiting for that dough to rise.
After the hour is up, dust your work surface with flour and press and then roll into a big rectangular shape about 1/4 inch thick. If you've got kiddies hanging around, they can help with the rolling and forming.
Now cover the rectangle with the cream cheese. It's okay if it's clumpy in areas, no need to get fussy about things being perfect. Spread the jam over the cream cheese and then sprinkle with the sugar and cinnamon. If you feel you need more sugar and cinnamon, go for it. Once again, if you've got little ones, they can assist with the spreading and sprinkling. Go ahead and preheat your oven to 375 F so things are nice and hot when you are ready for baking.
Use a pizza cutter to cut that rectangle into small squares, about 4 x 4 inches. No need to get out the ruler, just got ahead and cut away! Now start stacking those squares together and layering them in a loaf pan, which will get messy and a bit smooshy. You want the squares to be upright, not flat on the bottom. I found stacking together about five squares and then standing them up in the pan worked. They kind of folded over by the time I had then next five stacked, but I just pushed them back up again before adding the next group. Keep on stacking and standing until all the dough is in the loaf pan.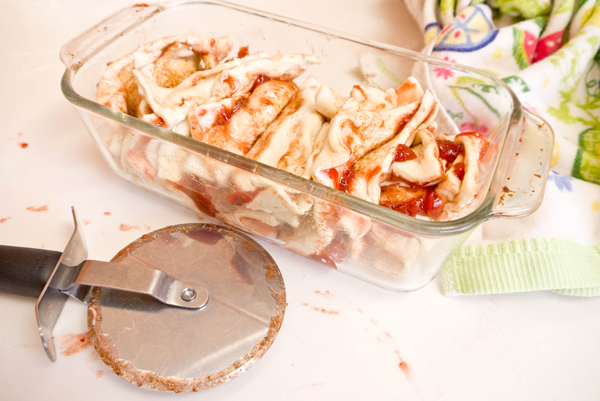 Place the pull apart bread into the oven for 35 to 45-minutes and then let cool before attempting to eat. Use a butter knife to help release the bread from the pan and then peel away a square of that strawberry jam and cream cheese pull apart bread to savor!