Thank you COOL WHIP for sponsoring this post. Join us on Facebook for inspiration and recipes for everyday treats. What you add makes it. #coolwhipmoms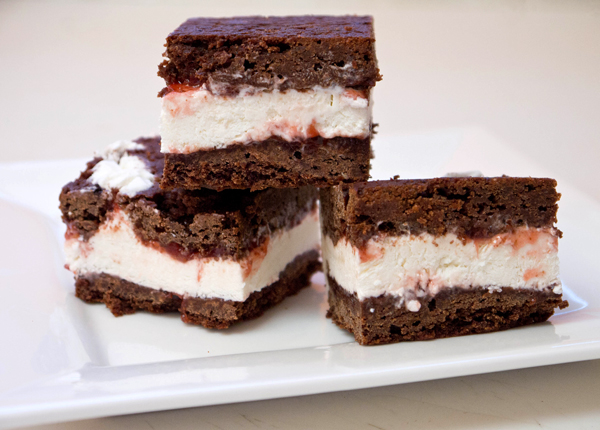 There's nothing like a cold treat on a hot summer's day. I love making frozen desserts that are nice and creamy and fit perfectly in small hands. This way I can grab-and-go without worrying about dirtying a bowl or forgetting a spoon. And, if there's any mess, we're usually outside near the hose, or the sprinkler, or the kiddie pool.
You get the idea.
This is a super simple frozen summer sandwich, and with a little help from COOL WHIP Whipped Topping, things just got a bit easier. Pairing COOL WHIP with tangy vanilla yogurt makes a sweet filling for fudgy cookies and strawberry jam – the perfect everyday treat. You've probably got everything you need in your pantry, and it's a totally kid friendly recipe!
Ingredients
1/2 cup melted butter
1/2 cup chocolate chips
1/4 teaspoon vanilla
Dash salt
1/4 cup sugar
1/4 cup cocoa
1 teaspoon baking soda
1/2 cup water
1 cup flour
1/2 cup strawberry jelly
3/4 cup COOL WHIP
3/4 cup vanilla yogurt
Directions
Start by melting the butter and then carefully pouring into a medium mixing bowl. Sprinkle the chocolate chips over the warm butter and let sit until they melt slightly.
Crank the oven to 350 F. and then add the vanilla, sugar, dash of salt, water, and melted chocolate chips to the butter. Go ahead and mix in the cocoa powder.
Sprinkle the baking soda over the batter as well as the flour. Stir unit the fudge cookie dough is nice and smooth.
Line a 9×12 inch sheet pan with foil and slightly grease. Spoon the batter onto the pan and then spread with a butter knife to create a 1/4 inch thick rectangle of fudge batter. If it doesn't reach all the way, that's okay. Just try to cover as much of the pan as possible.
Pop the big cookie into the oven for 15 minutes.
Ding!
Now slather the warm cookie base with the strawberry jam and let cool for at least 30-minutes.
Time for the fun part! Use a butter knife to cut the big cookie in half, creating two big square cookies. Mix together the COOL WHIP and vanilla yogurt and then spoon onto one of the cookies. Use a spatula – and the foil – to carefully place the other big cookie on top of the side with the filling and then press gently to evenly distribute the filling. Wrap the big sandwich with the help of the foil and place the whole shebang – sheet pan and all – into the freezer for at least 2-hours.
Remove your yummies and unwrap. Use a big, sharp knife to cut the big, mongo cookie into 3-inch squares – or whatever shape you'd like!
YUM!
Do you have a special dessert you'd like to share? Enter COOL WHIP's Fan Dessert of the Month Contest for a chance to win $500! Simply make a COOL WHIP dessert, take a photo, and upload it here. Enter now!
Sponsored posts are purely editorial content that we are pleased to have presented by a participating sponsor. Advertisers do not produce the content. I was compensated for this post as a member of Clever Girls Collective, but the content is all my own.