It seems all I've done lately is clean. From going through closets to wiping down counters, I am crazy in the midst of spring cleaning. We've been in this house for just about three years, making it the longest time the husband and I have ever lived in the same spot. Instead of moving boxes that haven't been unpacked (like ever), I'm on a serious attack of dust, old stuff, and more dusty old stuff.
I came across a whole box of unused frames – even one that had never ever been used – along with some other really awesome vintage frames. This one was boring and made of black plastic or something. It seemed a shame to not do something with it, and, while cleaning out the craft drawer, came across some super-fine glitter…
Super sparkly glitter picture frame!
This a fun project for both kids and adults. But, WARNING! If you aren't a glitter person this is NOT the project for you! Super-fine glitter is even more invasive than the regular stuff. You're going to have glitter in your house (and maybe your hair) after this project.
I'm all good with glitter at my house.
All you need is an old wooden or plastic picture frame, super-fine glitter, a wide paintbrush, an old shaker-top seasoning container, and Mod Podge. It's a good idea to cover your work area with a sheet of paper to help make clean-up easier. Remove the glass and backing from the picture frame, give it a quick clean, and then place on the paper.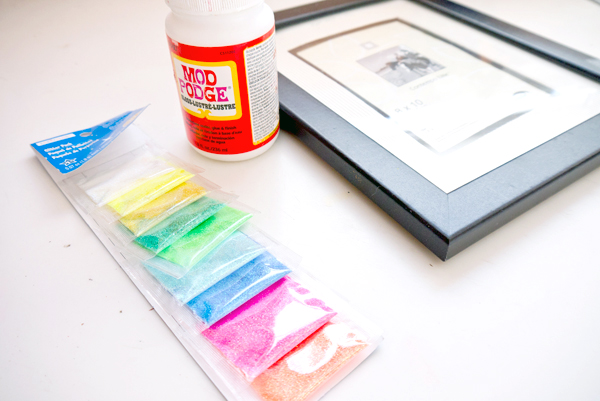 If you have small packets of glitter (like I did), open the packets and pour into a container with a sprinkle top. You can buy super-fine glitter in sprinkle ready containers, but I went with the mongo-multi color package at the craft store…. I used three small packets of glitter for my 8 x 10-inch frame.
Using a wide brush, generously coat the frame including the sides. Now the fun part – shake, shake, shake the glitter all around the frame. You can work in sections if you prefer – or if working with young helpers that might take a bit longer to shake-a-shake (you don't want the Mod Podge to dry!).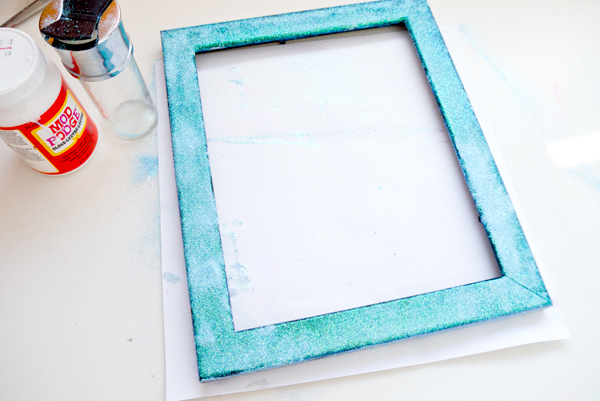 Let the frame dry for at least an hour.
Gently pick up the frame and tap it while trying not to manhandle the frame. If you've got any areas that need more glittering, dot with glue and then coat with more glitter. Keep going until the entire frame is covered. When done, you can gently fold the paper to collect the glitter and then pour back into the container.
Let dry again for at least an hour
Give that frame a final few taps to release any not glued glitter and then you are good to go!
I had the perfect picture for our finished glitter picture frame and love looking at it hanging on the wall. Just think how cute smaller glitter picture frames would be – sparkly pink for baby girl pictures, bright silver for wedding frames, or vibrant red for the holidays!