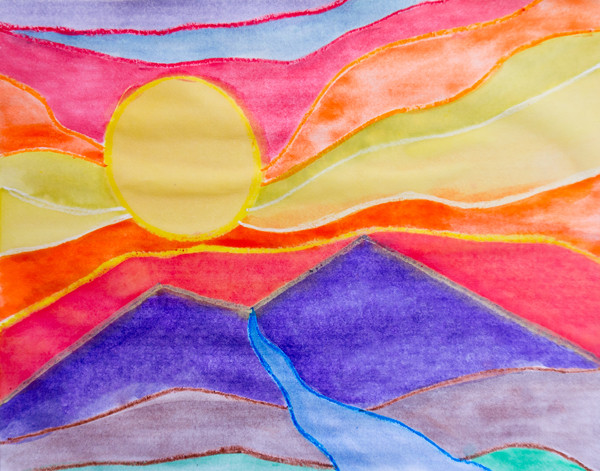 The tot and I have really been enjoying this glorious spring weather. While tending to the garden – and checking just about every 10-minutes to see if any strawberries are ready – we've been checking out the colors all around us. Thing are pretty cheery right now and I'm trying to soak up every moment. My somewhat-agreeable-but-often-stubborn toddler is growing up, which makes me happy and totally sad all at the same time. It is so awesome when she finds something she's excited about and to hear her tell me everything she knows (this flower is yellow, bees like flowers, AND bees make honey!).
The one word that comes to mind when describing the artwork of Ted Harrison is cheery. The famed Canadian artist creates whimsical images full of color, line, and natural elements. From mountains to animals to sunsets, Harrison's paintings are wonderfully simple but amazingly composed. His paintings depicting the Canadian Yukon are iconic and the reason he's one of Canada's most celebrated artists.
What I love about Harrison's paintings is his use of balance. Through line and color, his images are balanced or arranged in a visually pleasing way. Balance is one of those art terms that is part of The Principles of Design, which are concepts that are used to organize or arrange elements of design (which also have their own collection of concepts). Balance is the idea of equal weight within a creation. It can be symmetrical (the same on both sides) or asymmetrical (not the same – or informal) where things work together to create harmony.
While looking at Harrison's artworks, one can see how he uses line and color to create asymmetrical balance within his paintings. The tot and I spent a bit of time enjoying his creations and observing colors and subject matter. I figured we could create our own Harrison inspired artwork with the help of crayons and watercolor paints!
Older kids can use an artwork of Harrison's for inspiration or create their own uniquely balance design. Start by outlining the artwork with crayons. Your child can use random colors or ones that correlate with the subject matter. While working, encourage your child to think about if they are creating an artwork using symmetrical or asymmetrical balance.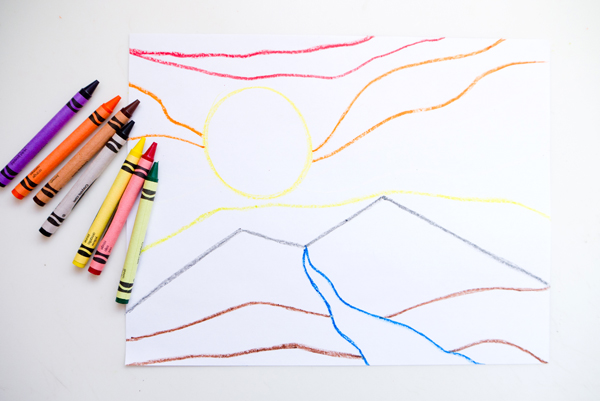 Once the outline is finished, your child can use watercolor paints to fill in the artwork. Along with creating vibrant areas of color, your child is also honing hand-eye coordination by concentration on painting within the lines. Once again, your child can use color to create balance within the artwork by working symmetrically or asymmetrically.
After the painting has dried, find a special spot to display the vibrant Harrison inspired artwork!
*My toddler is a bit young for this activity, but that didn't stop us from painting over the crayon and watching as it poped through! I made a second outline drawing and encouraged her to paint her own unique Harrison inspired creation.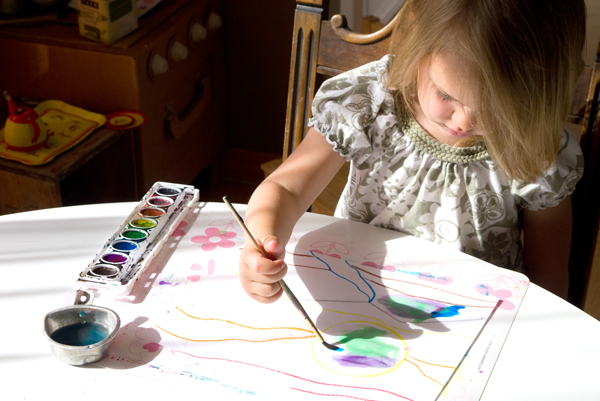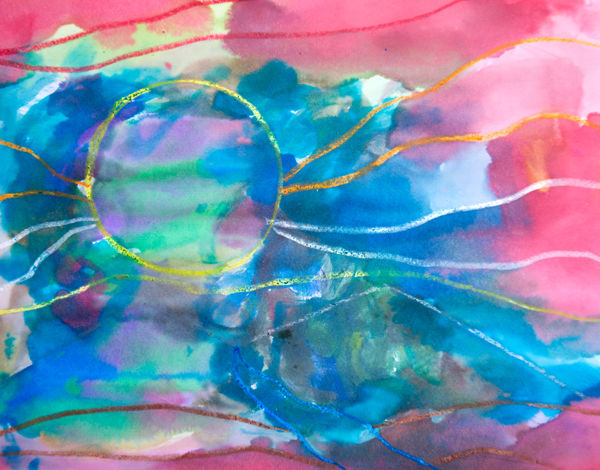 Thanks for the Feature, Let's Lasso the Moon!