The other day during nap time things got really quiet downstairs. You see, the tot doesn't really "nap" anymore, she just kind of "hangs out." I decided she was safe and fine and couldn't do anything really bad all happily enclosed in her room.
I was wrong.
After about an hour or so, I went down to see how things were going and found this: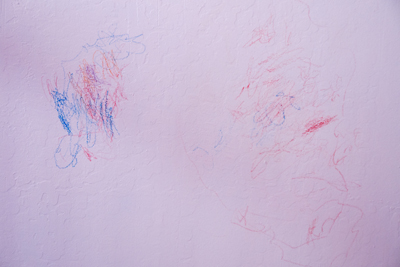 I'd seen lots and lots of people making homemade chalkboard paint, so figured that would be a perfect solution for covering up her crayon creation without making her seem like she'd done something horridly wrong. I had some old trim and a piece of plywood somewhere…
See, as an art teacher (and now a parent), I get it that she found a crayon hiding somewhere in her room (or had it hostage in her pocket) and decided to express herself on the wall. I could go all crazy and scream and throw a fit, but, really, it's not that big of a deal. Even if I scrub-a-dubed like crazy to get that crayon off the wall –  she'd probably do it again.
Creating a nice chalkboard spot for her was the perfect solution. While I was making up the tot's chalkboard, I decided to turn a couple of old picture frames into cute and funky chalkboards to give as holiday gifts. Big or small, handmade chalkboards are super fun – and super easy!
And the kiddies can totally get in on the fun – just use paint brushes and acrylic paint for covering the frames instead of the spray paint!
What you need
Old wood picture frame with glass removed
Piece of balsa wood or pressed board (I used an old backing from a larger picture frame)
Un-sanded grout
Latex Paint – any color
Plastic cup or container
Paint stir stick
Foam brush or roller
Spray paint – any color
Old sheets
Sandpaper
Ribbon/string/twine (just for fun)
(Ruler, pencil, handsaw, eye hooks)
What you do
Find a nice outdoor area to work. Put down an old sheet or drop cloth and place your frames – free of glass and stuff – flat on the sheet. Now spray them like crazy with whatever color of spray paint you selected. I picked a nice shiny silver for my holiday gift chalkboards.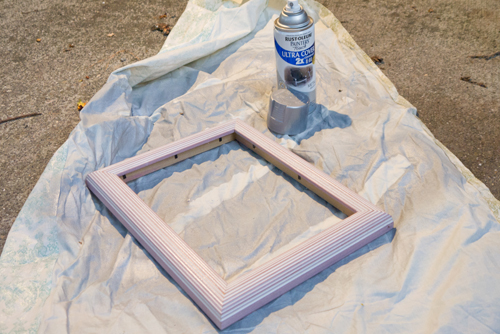 Go ahead and place your board on your work area and get mixing your chalkboard paint. If you need to pre-cut your wood, measure and mark, and then cut to size with a hand saw. You can also do this after you've painted if you're using a large piece of wood for several small chalkboards.
This is so easy – and you can make your chalkboard paint any color you'd like! Measure about 1 cup of the latex paint along with 2 Tablespoons un-sanded grout in a plastic cup or container and then really stir things up, making sure their aren't any clumps and lumps.
Roll that paint all over your board or use a foam brush to super-saturate the whole thing with your chalkboard paint.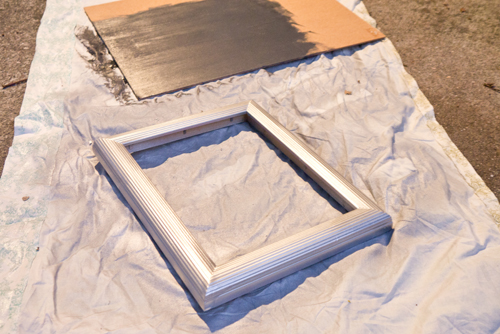 That's it!
Let things dry overnight and then prep the chalkboard by giving it a light sand with low-grit sandpaper and then rub with some fresh chalk and wipe off.
If you want to make things super cute, cut a length of ribbon and attach it to the top corners of the frame with small eye-hooks for hanging. I had some adorable *felted circle string left over from a gift-wrapped box from Anthropolgie that worked wonderfully!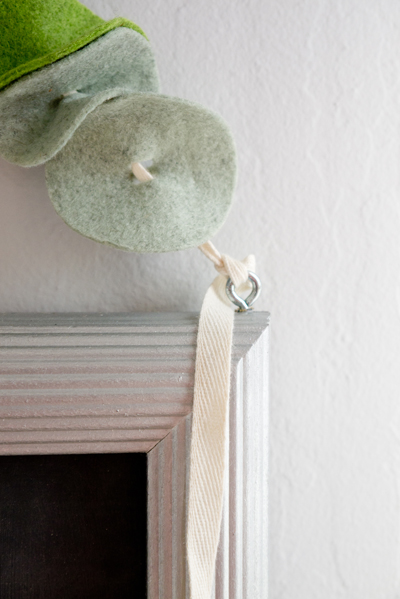 Here's how things turned out in the tot's room…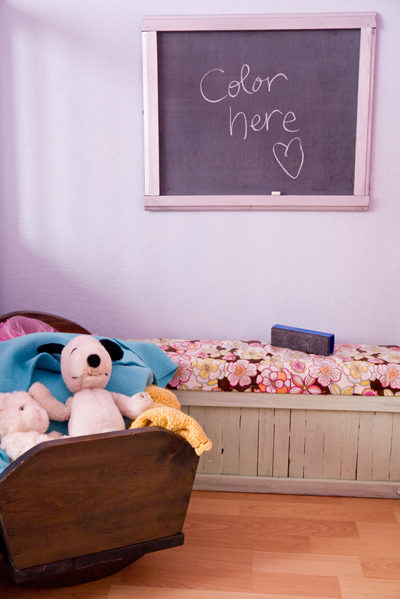 *Want to make your own felted circle string? Simply cut several circles from felt…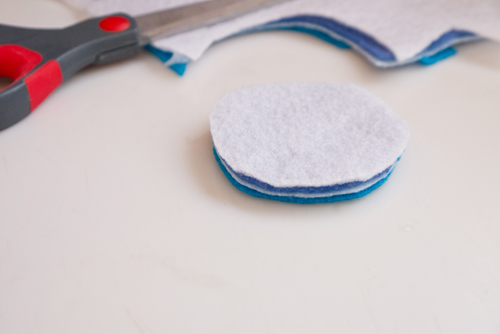 fold in half and cut two small slits…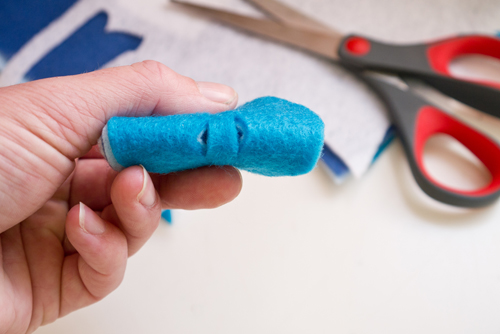 and string onto any decorative ribbon or string!