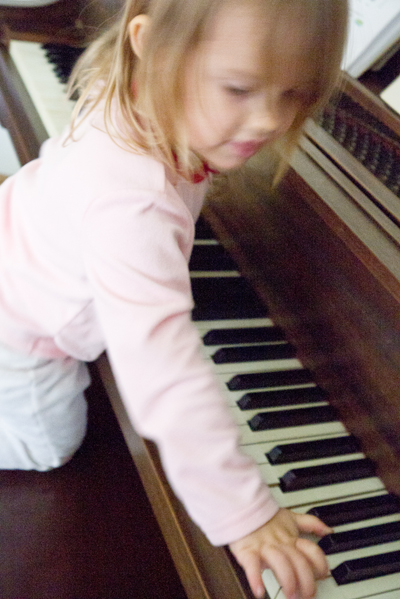 The nature versus nurture argument has going on forever, with some finding nature, our genetic make-up, to have greater influence on personality, learning and individual abilities than nurture, or the environment around us. Psychologists, philosophers, doctors and educators all have weighed in on which has dominance, but the debate still goes on. There is still to be a determination on whether nature or nurture reigns.
I know it's supposed to matter, but really, what matters to me is how to help our environment conducive to happy toddler behavior – and me staying sane.
The environment encompasses all things around the individual that has influence or offers an impression. Young children are greatly inspired and motivated, as well as deterred, by the environment around them.  Not only does this include how furniture is arranged in the home or classroom, but peer pressure and interactions with others. And, the general environment has greater influence on development and learning of the young mind than some might think.
The Environmentalist Learning Theory
Environmentalist learning theory is the understanding that the child's environment shapes learning and behavior. It is also thought that behavior and learning are reactions to the environment. This perspective encourages families, schools, and educators to understand the child develops and learns new skills in reaction to items she finds around her. Psychologists such as Albert Bandura found through observational learning, that the young child will observe and copy behaviors of others, leading to decision-making skills and development.
Another that finds the environment as an important factor in learning and development of the young mind includes Julian B. Rotter. His social learning concept focused on the idea that personality represents an interaction of the individual with his or her environment. Along with taking into consideration the individual's reaction to the environment, the individual's experience plays a role, too. The combination of the environment, the individual, and her reaction encourages behavior and learning.
Creating an Environment
When the child is in an environment not conducive to learning, she will not learn to her best abilities. When the environment is altered to encourage greater learning, her educational opportunities increase. Whether in the home or classroom, creating an environment conducive and supportive of learning aides in the young mind's evolution to greater knowledge.
You might be surprised at how simple things can be adjusted to motivate learning in your environment. Take into consideration:
Environmentalist theory offers the ability to change the environment for the learner potentially benefiting the young child. There are other factors, including negative elements that should be taken into consideration, such as:
Media: Turning the television off, as well as video games and computers, during learning times encourages the child to use her own skills for problem solving and learning. Using the television as a babysitter or learning tool is not always effective and does not offer human interaction beneficial to learning.
Model Positive Behavior: As the saying goes, "monkey see, monkey do." When the child sees an adult behaving a certain way, she wants to emulate and copy. Avoiding drinking, smoking, or using harsh language around children in any type of environment creates positive modeling and promotes good behaviors.
Eliminate Unnecessary Noise: Loud noises are not beneficial to the young learning mind. Help encourage learning by turning off or removing items that create loud noises. This way the child feels nurtured and encouraged to learn without disruption.
Take the time to consider the environment when considering the learning and development of the young child. Simple environmental changes offer wonderful results.
Now, go rearrange all your furniture – or don't 🙂