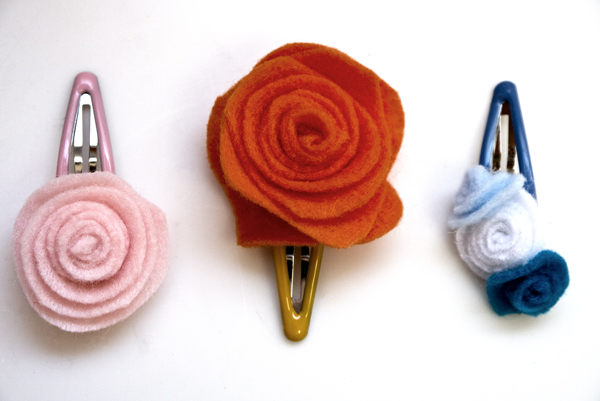 With the holidays right around the corner, I'm getting together all my crafty ideas for creating cute homemade holiday gifts. Along with making stuff for my family, I also like putting together a couple of things for friends. And, this year, I'm making stuff for my own tot. She's finally old enough to understand this whole "gift opening" thing. So the hubs and I are scrambling to put together a few fun items for her to tear apart come Christmas morning.
While hanging out with my extended family over Thanksgiving, I had so much fun watching my niece and daughter play together – and get into some "girly-girl" stuff. Okay, I'm first to admit I'm not tossing bows and ribbons at my daughter, but it was fun to see her getting into wearing her niece's hair clips and wanting to actually do something with her hair….
Which gave me a great idea for a holiday gift!
Itty-bitty felt flower hair clips.
This is a cheap and adorable homemade gift to make, and you can put your own spin on the basic design by adding beads or other fun embellishments. But, for the most part, you only need a few materials and, before you know it, you'll have created a whole collection of adorable hair clips (and I guarantee you'll keep a couple for yourself).
Start out by picking up some small hair clips from your local everything store. I found ones that were shades of pastels, but plain metal ones would also work wonderfully. I think they cost me about $3.
Now get out some colorful felt. Sheets of felt run about $1. You could play match-matchy and use colors that coordinate with your hair clips, or mix things up. To create simple flour rosettes, start by cutting a small circle out of the felt, about 3-inches in diameter. Then cut a line into the felt, swirling to the center of the felt circle – kind of like you're making a snake – but stop cutting once you hit the middle.

It's as simple as starting to roll the felt at the outside edge and continuing until you get to the middle and securing with a glob of hot glue.

DONE.
Attach the felt flower to the hair clip and you've got an adorable gift! And your total cost is pennies!
For fun you could add small beads around the flower, bundle a couple of felt flowers together, or create the flowers out of different sizes of felt – or even newspaper or other materials.
I kinda fell in love with the big orange one…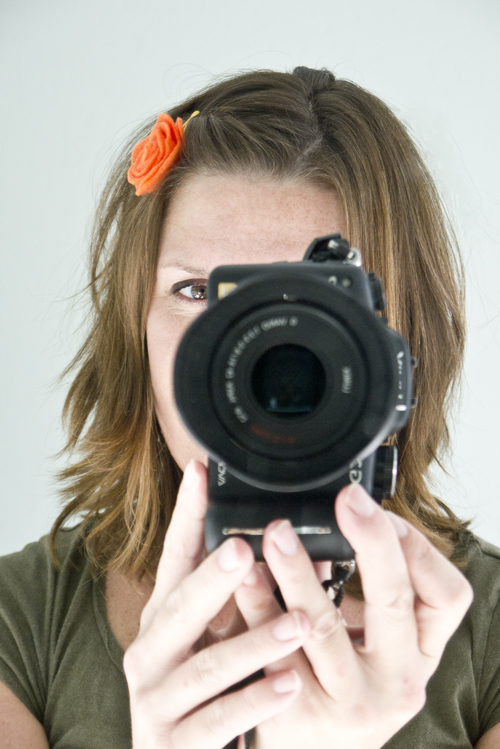 Have fun – and Happy Holidays!