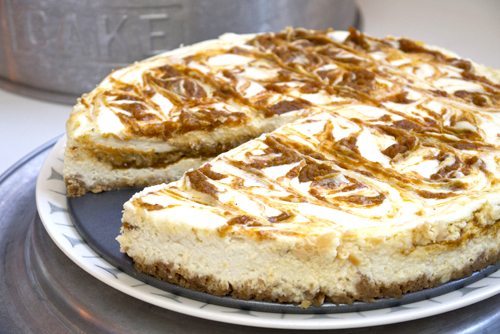 Well, the holidays are here. There's no denying that I'm in high-heaven cooking and baking up a storm. I'm testing out recipes and getting ideas for sweets, treats, and homemade goodies to make. But, we're heading out this year, which means I'll be whipping up Thanksgiving dinner in someone else's kitchen.
That's okay and all.
But….
That also means no leftovers!
So I figured I'd make something super special just for the hubs and I (and the tot) to enjoy before turkey day.
Pumpkin cheesecake.
If you remember, the husband informed me out of the blue one day that he loves cheesecake. He's not really into desserts, other than pumpkin pie, so discovering he liked cheesecake opened the doors of my heart even more.
I loooooooove cheesecake. Love.
Putting pumpkin and cheesecake together just seems right in my world. This is an easy recipe with stunning results. You can take this cheesecake out for entertaining or hoard it all to yourself (no one will know!).
And it's so easy.
The Stuff
6-8 graham crackers
2 tablespoons room temperature butter
16 ounces room temperature cream cheese
1/2 c sugar
2 teaspoons vanilla
1 c sour cream
2 eggs
Dash of salt and lemon zest
1 c pumpkin puree
2 tablespoons brown sugar
1/2 teaspoon cinnamon
Pinch of cloves, ginger, and nutmeg
9-inch springform pan
Get baking!
Go ahead and preheat your oven to 350 F, get out your springform pan, and a deep baking pan your springform fits in.
Crumb up the graham crackers by blitzing in the blender or tossing them in a baggie and pounding them until all your frustrations have melted away. Mix the graham cracker crumbs with the room temperature butter and then press into the bottom of the spring form pan creating a nice, crumbly crust.
In a mixing bowl, add the room temperature cream cheese, sugar, sour cream, vanilla, and eggs, and whip with a hand held blender until smooth. Now add the dash of salt and lemon zest and let sit while you make the pumpkin filling.
In a small mixing bowl, stir together the pumpkin puree, brown sugar, cinnamon, and dashes of cloves, ginger and nutmeg.
(Really, it's that simple)
Now pour half of the cheesecake filling into the springform pan. Dollop that with about three-fourths of the pumpkin mixture, and then ladle the rest of the cheesecake batter on top. Drop the last bits of the pumpkin over the top of the cheesecake and then swirl and marble by pulling a toothpick forward and back and side to side a couple of times.
Go ahead. Get creative.
By now your oven should be ready, so place the springform pan in the deep baking dish and heat up about 4 cups of water until just about boiling.
Place the deep baking dish holding your cheesecake into the oven and then pour the hot water around the outside of the springform pan into the deep baking dish just until about 1-inch of the bottom of the pan is full. The hot water helps bake the cheesecake evenly – there's a fancy-schmancy name for it, but that doesn't really matter (bain marie).
Set your kitchen timer for 60-minutes and walk away.
When your timer dings, remove the cheesecake from the oven (leave the pan with the water in there – don't try to take it out all together – big, hot mess potential!!!) and let your cheesecake rest for at least 30-minutes.
Yes, I know it's hard to wait, but you don't want your cheesecake to fall apart. It's still setting up even though it's out of the oven.
Run a knife around the outside edge of the cheesecake to help it release from the springform pan, open her up and pop in the fridge for an hour before slicing.
Yes, I know it's really hard to wait, but it's worth it.
This is what you'll have when you finish with all that waiting…