Some mornings all I want is a simple poached egg on an English muffin. It's the most comforting breakfast, and really so much easier than you think. There are no fancy gadgets involved, no unusual cooking techniques, and only a few ingredients.
Start by bringing about 4 cups of water to a simmer in a deep saucepan. I like to add 1 teaspoon of white vinegar and a couple of good shakes of salt to the water.
Now go pop your English muffin in the toaster and grab your eggs.
Use a spoon to stir the water in a circle, creating a spinning vortex of hot happy water ready for your eggs. The moving water helps hold your eggies together when you plop them in.
Crack one of your eggs right into the center of the saucepan and then add another. If you're doing more than two eggs, you can gently stir the water again and add up to two more eggs without crowding the hot tub. Things aren't going to look too sexy right now, but that's okay.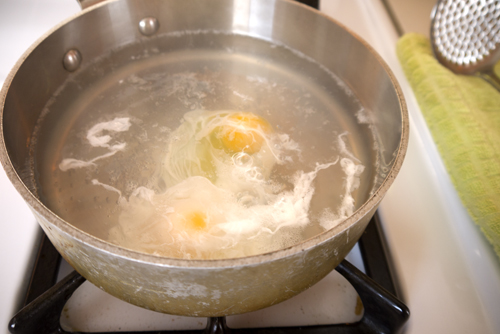 Go ahead and use a spoon to gently prod the eggs, making sure they aren't stuck to the bottom of your pan.
Oh – your English muffin is ready! Give it a slather of butter and place on a plate.
Your eggs have been happily simmering for about a minute or so. You may have noticed some floaty bits of egg in the water, which you can remove with a spoon if you'd like. Gently lift out an egg with a slotted spoon to test its doneness. If the egg is still a bit jiggly in the middle, you've got nice runny yolks. If you prefer a less runny egg, let things simmer for another 20-seconds or so.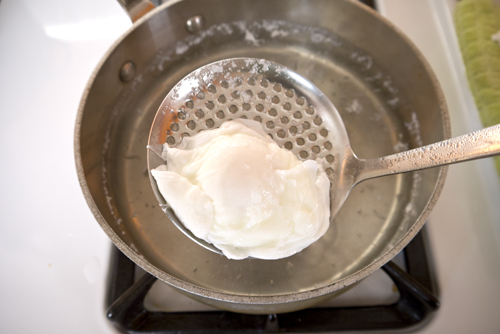 Place your finished eggs on your English muffin, dust with salt and pepper, and have at them.
Sure, you could whip up a sauce to ladle over the top or put some perfectly cooked bacon under those eggs, but I'm a purist.
I just want perfectly poached eggs.
And these are just about absolutely perfect.