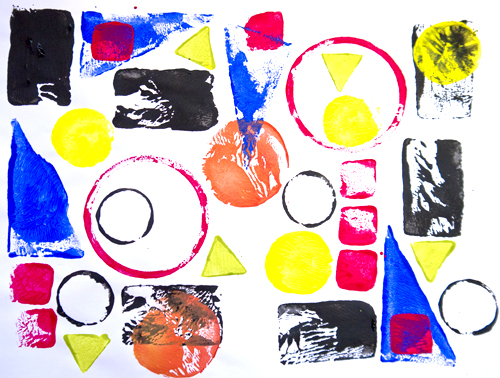 There's nothing like a colorful collage of shapes that creates an eye-popping and exciting artwork. The other day when the tot awoke from her not-so-blissful non-nap time, instead of turning on the TV we attacked her play area trying to make sense of her random toys and such. While picking up all her wooden blocks it reminded me of an artist that used those simple shapes to create famous artworks of his own.
Auguste Herbin was buddies with Braque and Picasso, exploring all the excitement of Cubism and hard-edged shapes. While living in Paris, He hung with his friends while creating abstract and colorful artworks that turned those simple shapes into something really special. With his use of pattern, rhythm, and balance, Herbin combined his exploration of Impressionism and Fauvism into his form-filled paintings.
After putting those blocks on our work table, I cozied up with the tot to take a closer look at Herbin's paintings. Even though my daughter's only two, she throughly enjoyed looking at the paintings and calling out the shapes she recognized. Older kids can check out Herbin's use of pattern and repeating shapes and colors to create his balanced paintings.
Now get out a sheet of white paper along with a piece of scrap paper to put some blobs of paint. Your child can use the primary colors (red, yellow, and blue) along with black and then explore color theory by mixing to create other colors – such as orange, purple, or green.
Invite your child to tap the wood blocks in the paint and then arrange on the paper, using a favorite Auguste Herbin painting as inspiration. Don't have any wood blocks? Your child can cut shapes out of cardboard or use the tops or bottoms of bottle caps, yogurt cups, or tupperware containers.
Encourage your child to continue tapping and pressing the shapes until the whole paper is covered along with thinking about composition and balance. She can create a few patterns or areas of repeated color to move the viewer's eye around the artwork.
Now your child can think about overlapping colors and shapes, just like Herbin did. Sure, she can go crazy and overlap lots and lots, or just select a few shapes to highlight with an overlapping shape.
Once the artwork is dry, your child can display her finished Auguste Herbin artwork in a spot that needs a bit of color and excitement!