The other day I didn't really feel like leaving the house. The tot was sick and we needed something for lunch. I had a few lame-o things hanging out in the fridge – but I wanted to make something fun. My daughter is in love with making pizza and we had a few toppings but they were pretty boring, cheese, sauce, spinach…
Then remembered a recipe I had found for homemade ricotta.
I came across this recipe the other day from Smitten Kitchen and had fallen desperately in love. I just hadn't found the perfect reason to make it – and this was it. Supposedly I could make the tasty stuff in 15 minutes, so I thought I'd put it to the test. I made a few adjustments to the original recipe with awesome results.
Super yum.
Ingredients
2 1/2 c whole milk
1/2 c cream
1/2 t salt
1 Tbsp plus 1 t white vinegar
1 Tbsp lemon juice
How to make it
Pour the milk and cream into a sauce pan along with the salt and bring to an almost simmer – around 180 F. If you don't have any cream hanging around, you can use 3 c whole milk and it will still be good.
Turn off the heat and add the vinegar and lemon juice. Let the mixture hang for a minute or so.
Line a strainer with cheesecloth – but if you don't have any (I didn't) use a couple of sheets of heavy-duty paper towel. Place the strainer over a bowl and then gently pour the milk into the strainer.
Set the timer for 15 minutes and let your ricotta strain. Sure, it doesn't look like much right now, but, patience pays off.
Now gently fold over your cheesecloth (or paper towels) and press on the ricotta, releasing a bit more liquid. Use a spoon to scoop the ricotta into a container or use right away.
I dolloped some on top of our pizza and the tot and I enjoyed our special lunch.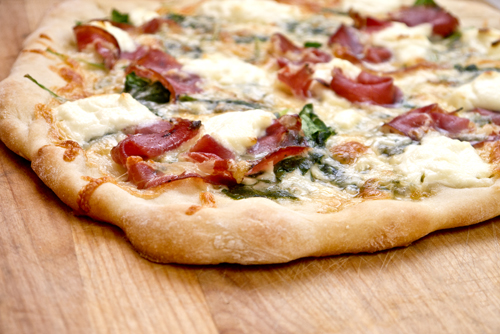 DEEEE-licious.