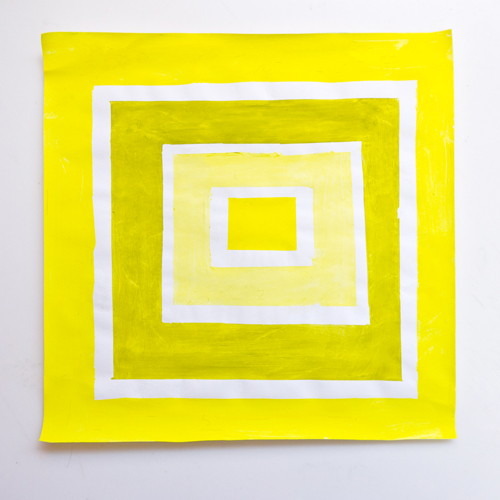 My previous installment of exploring fine art for kids got some interesting reviews over at Shine from Yahoo!. Go ahead and check out the comments and come back if you would like, but, basically I had a critic of my creative ideas. Yeah, his feeling was that instead of being fun and educational, these art activities are creating mediocre kids.
Well. Get over it.
I'm happy creating a mass of "mediocre" children that have fun while discovering the wonder of color, line, shape, design, and art. Yup. Art.
If you're with me, I encourage you to share your fantastic art activities that you enjoy doing with your kids at the end of my arty project posts – or please share them around your network.
Let's keep creativity fun, spontaneous, and exciting.
And this project is a great way to explore the wonders of color and design with a modern artist that has definitely influenced the way the world looks at art. Sure, Josef Albers isn't a household name, but his simplified vibrating artworks took color theory beyond the norm and caused the viewer to really stop and pay attention to the power of color.
Color theory is one of those areas of art no one really gets super excited about. All that color mixing, the color wheels, and dark to light shade gradients and tutorials become pretty boring after a while. But, with the help of Josef Albers, color mixing just might turn into something fun!
A tint is when a color is mixed with white and a shade is when a color is mixed with black. Josef Albers totally experimented with shades and tints in his artworks. Start by taking a closer look at some of his creations with your child and chat about his color choices and the shapes he liked using (he sure liked squares!).
To create this square-shaped color theory artwork, take some influence from Albers by cutting a white paper into a square. Now invite your child to use masking tape to section off several squares. He can use scissors to cut the tape into thinner strips if he'd like.
Now your child can pick a color to use for creating his tints and shades. We decided on yellow and added a couple squirts of white and black next to our yellow paint.
Invite your child to start by painting a section of his square creation with the solid color. Then he can add a bit of white to that color, creating a tint, to use for painting another section. Then he can add a bit of black to his color, creating a shade, to use for another section. He can keep adding white or black to finish things off.
Once everything is all painted, let the Albers' inspired artwork dry for an hour or so before removing the tape. Invite our child to create several radiating artworks and then tape them to a door or wall in your home for a really exciting pop of color.
See – color theory isn't all that bad after all!