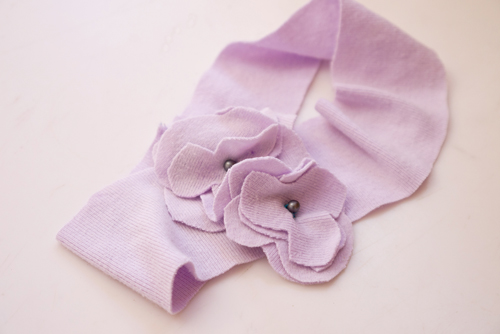 The other day the tot and I were getting ready to head out for a play date and I thought we could toss together something cute to give her friend. I had just finished putting away the laundry and pulling out a few of my daughter's t-shirts that were too small and got an idea. I'd seen some really cute ideas for making paper flowers and wanted to give something a try.
Why not create t-shirt flowers and cozy them up on a headband?
Sure!
This is a super-simple project, and let me tell you, somewhat addicting. After finishing the adorable wee headband for our friend, I made several more in hopes my daughter would be enticed to wear one. Nope. She's still anti-anyone-or-anything-touching her hair. Serious bummer because these little headbands are totally adorable, and even us big girls can wear them, too. And, hey, if you've got a junior ms. crafty at your house, she can create her own unique flower headbands all on her own.
Start by cutting a strip from the center of the t-shirt about 1 to 2-inches in width. This will be the base of the headband after some adjustments.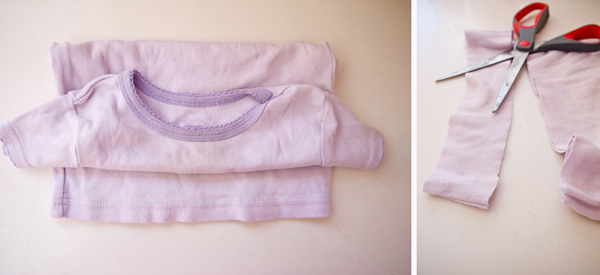 Now cut several squares from the t-shirt of various sizes. I cut about 12 2 by 2-inch squares for this headband.Transform the squares of t-shirt into flowers by cutting organic flower shapes and then staking several together.

To create the base of the headband, use a length of string the measure the circumference of your (or the headband recipient's) head and then subtract 2-inches. That should be just about right for the length of your headband. Go ahead and cut one of the seams from the strip cut from the t-shirt, and then trim to the correct length.
Sew through the middle of a stack of t-shirt flowers and then secure with a knot. I added a little bead just for fun in the center of the flowers. Then sew the seam of the headband with a length of string and a needle with a basic straight stitch.
Now attach the flowers to the headband by simply stitching through the center. You can gather them together in a happy cozy collection along one of the seams.
Your flowered t-shirt headband is ready to wear!