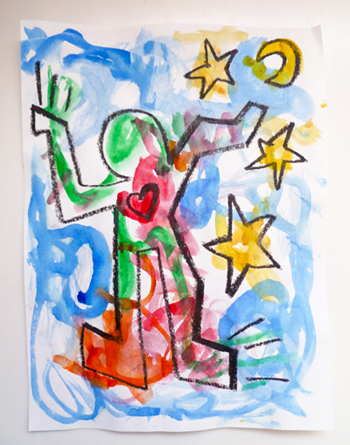 What I love about Keith Haring's art is that it is what it is. His images are simple with prominent strong black lines and areas of color. An American artist that grew up in the 1970's, Haring was a bit different and hooked in with the alternative art crew thriving in New York during the late 70's. His buddies, including Jean-Michel Basquiat and Kenny Scharf, took art outside the typical gallery and museum setting and hit the streets, bringing graffiti art to the mainstream. In the mid 80's Haring found the perfect canvas for his art – unused subway panels. He used white chalk to create hundreds of images that entertained and moved the viewer.
His childlike style was eye-catching and different from anything else in the art world, and Haring began to gain attention from museums and galleries. He remained true to his unique style until his death in 1990. Let's be honest, some of Haring's images aren't for the kiddies, but he is an inspiration and wonderful influence to all for creating art of all kinds.
So the other day, when I was feeling a bit down, I thought of Haring and the challenges he went through in life – and how he kept creating through it all. I figured the wee tot and I could make a moving and expressive creation in his style.
First we headed to HaringKids.com, a wealth of awesome Haring stuff, and checked out Haring's artwork and the interactive activities on the website. Then we got out the crayons and started drawing.
My tot is a bit young to create forms using expressive lines, so I helped her by making an outline of a person using a black crayon. But, she wanted me to add a heart, a few stars and a moon, which seemed to fit in perfectly. Older kids can think of creating an expressive form with movement and lines with shapes surrounding it, just like Haring.
Encourage your child to press hard with the crayon, making strong dark lines, which also encourages her fine-motor skills. Once she's satisfied with her expressive drawing, she can dig out those watercolor paints.
Invite your child to paint over her black crayon drawing and watch as those black lines pop through! She can use specific colors in areas of her painting, or cover the paper with one solid color.
Once her expressive form painting is dry, she can give it a title and find the perfect spot to display it – like the fridge!