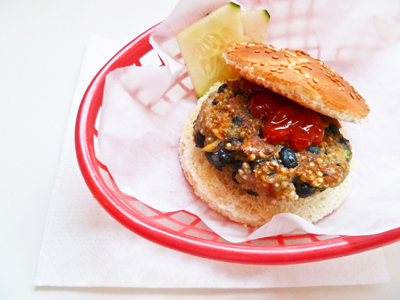 The other day we went to In-N-Out and figured the babe would be in bliss over the amazing tastiness. I mean if we love the stuff, she should too, right? Yes, burgers slathered with cheese and that extra special tasty savory sauce is one of my favorite unhealthy indulgences, which doesn't happen very often. We figured it was time. It was time to introduce the wee tot to In-N-Out.
The minute we walked in she was dazzled with the shiny redness of the place and we amazingly found a booth. The hubs ordered the food and we happily (impatiently) awaited the double-doubles – single for the babe.
She wanted absolutely nothing to do with any of it. After delicately tasting a fry, a couple more, and touching her tongue to the burger, she was done with the place. And, when I say done, I mean wailing-in-the-highchair done.
I figured I could at least attempt to create a burger she might like and had my sights set on some sort of veggie burger. I know she likes quinoa and black beans (sometimes) so decided to attempt a combo.
Black bean quinoa veggie burgers.
Stuff to make them
1 green onion chopped
1 cup cooked and cooled quinoa
1 15-ounce can of beans
1/4 cup crumbled saltine crackers or breadcrumbs
2 Tablespoons flour
1 egg
1 Tablespoon salsa
1/4 cup cubed cheddar cheese – or Monterrey jack would be tasty, too
What to do
Start by adding the quinoa and rinsed and drained black beans to a bowl. Give them a light toss to get them ready for ingredients to come.
Go ahead and crack an egg over the mix and stir until the egg is incorporated. You can also add the salsa and chopped green onion.
The day I concocted these goodies, I didn't have any plain breadcrumbs, but did have an abundance of saltine crackers. So, I crumbled some up and they worked just fine. This is the time to add the flour, too.
Cube up some of your cheese and add it to your veggie burger mix. Let everything sit and glue together for about five minutes or so.
While you're waiting, you can heat up a large sauté pan over medium heat with a layer of veggie oil. The burger mix is enough to create four really big burgers or six nicely sized mini-burgers. Spoon mix, gently pat together into whatever shape you want by two to three inches thick.
Place those burgers in your hot pan and let sizzle for about two minutes without touching them. This helps create a crusty seer on one side, making those buggers easier to flip.
After you've flipped, you can get your burger buns ready however you like. I cut big buns into smaller buns for my wee tot to enjoy her black bean quinoa veggie burgers. Once those burgers have cooked another two to three minutes, you can flip and let them cook a couple of minutes more on each side.
Serve your veggie burgers with some homemade fries or your favorite potato or tortilla chips.
Yum.
*These black bean quinoa veggie burgers were a big hit with the babe – sans the bun, though. She even enjoyed them cold for lunch dipped in ketchup (although I think she just really got into the whole dipping-something-into-ketchup thing)!