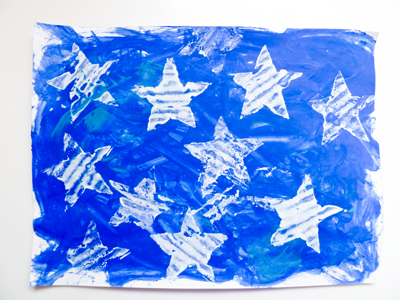 Just last week, the wee tot's favorite shape (heart) was replaced with the star. She walks around yelling, "staaaaaaah" and pointing at any stars she sees around her. So I figured it would be fitting to create a few stars with some motivation by famed painter, Jasper Johns.
During the mid 1950's, Jasper Johns broke onto the American art scene and helped move the art world from Abstract Expressionism into the land of Pop Art and Minimalism. His canvases were layered with thick paint, covered with big, bold shapes, and sometimes even came right out at you through his style of building canvas on top of canvas.
A couple of Jasper Johns' paintings are right here in San Francisco at the SFMOMA, which I took the wee tot to visit just about a year ago. Sure, she had no idea what she was looking at, but I stood in awe while looking at his paintings. I knew one of my favorites, Flag (1954), would be the perfect inspiration for an afternoon star painting project with the babe.
My daughter's not old enough to really understand the motivation behind Johns' flag paintings, but older kids can do some research to learn more about Jasper Johns and what intrigued him so about the American flag. Stars are also fairly prominent in Johns' works, so I figured the wee tot could cozy up by the computer while enjoying counting stars in his paintings.
I offered the babe a sheet of white paper and plopped a couple of dollops of blue paint on the paper. With the help of a big paintbrush, she had the whole paper covered in no time. Finger paint would also be a great option for creating the textured blue background for those stars.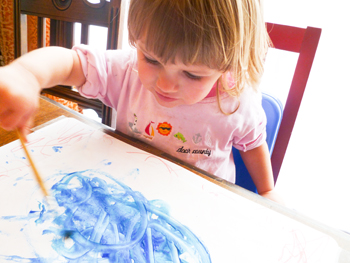 While the paint was drying, I helped the babe with the next step by cutting a star out of cardboard. Older kids could do this step themselves by tracing around a star shape, or using a ruler to create and cut a nice edged star about 3 inches in diameter.
Now tape a small item to one side of the cardboard star to create a stamp. I found that a die worked great, but a wine cork, or plastic bottle cap would be perfect, too.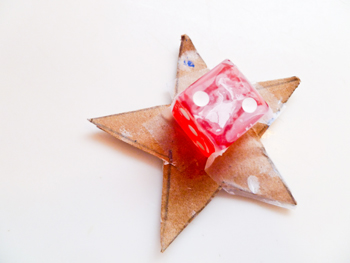 Once the paint was dry, I poured a small amount of white paint on a paper plate and encouraged the tot to press and stamp stars, and stars, and stars. Older kids could create a star pattern, or even replicate rows of stars, just like in the American flag.
After my daughter was satisfied with those stars, we proudly displayed her Jasper Johns' inspired artwork on the fridge. She loves walking by, pointing, and yelling, "staaaaaah!"