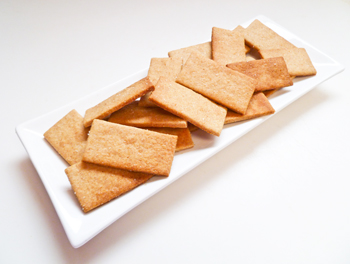 The other morning the wee tot awoke not only a slight shade of green but with the wonderful dry-heaves occasional throw-up thing. I knew right away that the day was a wash and any plans were pushed aside. Stopping the babe from tossing her cookies was of the utmost importance, and I quickly quizzed myself on all the things that help tummy ick.
Crackers and ginger ale.
Amazingly, I had ginger ale. Unbelievably, I was fresh out of crackers. For those of you living in the northwestern part of California, you are fully aware of the freakish monsoon like conditions taking place. The hubs and I had spent the previous day stocking up on anything and everything possible to get us through the next couple of days so we wouldn't need to leave the house in the pouring rain. Somehow, those crackers were forgotten.
But, have no fear, there are simple ingredients that are easily tossed together to create tasty and happy-tummy-making crackers. I figured if I used whole wheat, she'd get some protein and healthy grain in her, too. And, honey is just yummy.
So, whole wheat honey crackers it was. These little goodies are somewhat similar in so-many-ways to those ones you get in the yellow box at the store (you know the ones I'm talking about).
Ingredients
1 3/4 cup whole wheat flour
5 Tablespoons butter cold and cubed
2 Tablespoons honey
1/4 teaspoon white vinegar
1/2 teaspoon salt
1/4 cup water
What you do
Start by tossing the flour and cubed cold butter in a bowl and mushing them up together with your hands until they are like course sand. You can use forks or knives to do this, but I really prefer to do it by hand. It feels oh-so-good and you can control the texture of your cracker dough better, too.
Once everything is all crumbly, add the honey, vinegar, and salt and give a little stir. You can also preheat your oven to 400 Farhenheit so it's ready to go when you are.
Now slowly drizzle the water into the mix while stirring. As soon as the dough comes together, you've got enough water. Some days you'll need the full 1/4 cup and others you might need less (or more, who knows).
Dust a work surface with flour and kneed the dough lightly – or just slap it around a bit. Cover it with plastic wrap and toss in the fridge for 10-15 minutes. You don't want things to get too cold, but the dough is easier to work with once it's chilled a bit.
Tear off a sheet of parchment paper and cut it to the size of your sheet pan. Place that parchment paper on your work surface and dust with flour. Now roll roll roll that dough until it is thin. I found the thinner the dough the crisper the cracker – and I love crispy crackers. But, if you want a thicker more substantial snack, roll the dough until it is the thickness you prefer.
Get out your pizza roller and cut your crackers. I went with a basic rectangle formation, but you can create any shape you'd like.
Give the whole shebang a sprinkling of salt, slide the sheet of parchment onto your sheet tray and toss your crackers in the oven. Don't go too far, these tasties bake up in no time – especially if you rolled them thin. Mine took about seven minutes to reach perfection.
These are super tasty crackers, and you can add any flavor combinations you'd like. I'm already planning on some whole wheat honey herb crackers!
*The babe enjoyed munching on these while sipping some water-downed ginger ale, and in no time, she was no longer a shade of pukey-green.