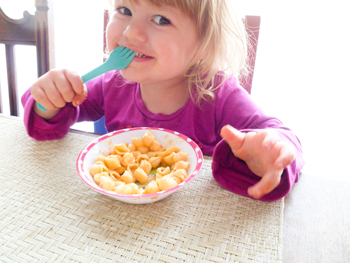 I don't know how else to share my total confusion and distress over the fact my daughter will only eat three things – cheese, grapes, and cookies (which are really saltine crackers, but we call them "cookies"). Sometimes oranges or pears take the place of grapes, but pretty much cheese and "cookies" rule. One day my daughter can't get enough of banana bread, and the the next she turns up her nose. Then she loves peas, and by the next meal they are playthings instead of something to eat.
I'm seriously tired of the dinner battle, which is turning into an unending war. The food tyrant is reigning high on her throne. I've shared with you every successful triumph, only to have my hopes of new food adventures dashed the next day.
Humph.
My daughter's personality is in full shine mode right now, and she can be a stinker at times. Hey, I was at that age, too, so it's only fair. I wasn't sure if I could take another night of fresh healthy food being tossed to the floor and wasted. So I resorted to making that blue and orange box of pasta to see what might happen. I was utterly amazed while watching the wee tot shovel it in by the fistful.
Really?
The last three nights have been filled with nothing but mac-n-cheese. I've relinquished. If I mess with the original recipe, it gets dashed to the floor.
I'm happy she's found a new favorite food. I'm not excited about the healthy-ness of the whole shebang. I figured there had to be some sneaky ways to get other things in the babe while she's fascinated with the orange stuff. With some helpful tips from the Motherboard, I think I found a winner.
WHITE BEAN MAC-N-CHEESE!!!!!
Ingredients
2 cups dry small shaped pasta
6 cups water
1/2 a red pepper chopped
1 cup white beans
1 Tablespoon butter
1 Tablespoon olive oil
1/4 cup water
1/4 teaspoon salt
1/2 cup shredded cheddar cheese
Dash of pepper
How to make the stuff
Start by boiling 6 cups water in a large stockpot. Once everything is bubbling, add the pasta.
While the pasta is boiling away, go ahead and chop half the red pepper and steam in a small saucepan or in the microwave until tender. Red pepper is one of those things your kid may not be super excited about. But, when it's pureed, she'll never know it's in there! And, red pepper is packed with tons of vitamin C and natural fiber – and helps give this mac-n-cheese the perfect orange color!
Now you can open a can of white beans and give them a good drain and rinse. White beans are also full of fiber, healthy protein, and vitamin B, which is great for your child's budding brain. Go ahead and measure one cup of those little tasties and add them to the blender. Toss in the butter, oil, water, and salt, too.
Put the steamed red pepper in with the rest of the goodies and give a good blend. You want a nice creamy consistency, so if you need to add a bit more water, go for it.
By now your pasta should be ready for draining. You can put the pasta back in the stockpot and cover it with your bean sauce. Toss in the shredded cheese and a good dash of pepper. Gently stir until the cheese has melted and you can't stand not giving the goodness a taste.
You can eat by the forkful over the pot – just make sure to ladle up a bowl and offer it to your kids, too!
(And, yes, this is the stuff my little food tyrant is noshing on in the picture above.)
Enjoy!